Rafter Romance
(1933)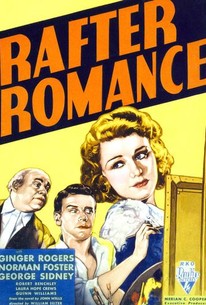 AUDIENCE SCORE
Critic Consensus: No consensus yet.
Movie Info
Set in New York's Greenwich Village (specifically, on Bleecker Street), William Seiter's Rafter Romance is a cute romantic comedy, the plot of which contains echoes (or, more accurately, foreshadowings) of Shop Around The Corner. Ginger Rogers plays Mary Carroll, a young woman from upstate who came to New York to find a job and a career, but whose money has almost run out; Norman Foster is Jack Bacon, an aspiring artist living in the same building, in the attic loft, who is months behind on his rent, as well; their landlord, Max Eckbaum (George Sidney), a good-natured soul who wouldn't harm a flea, as he might put it, nevertheless has expenses to meet, and could have rented Mary's apartment to a paying tenant several times over. He comes up with the solution -- move Mary into Jack's loft; after all, Jack works all night as a watchman and sleeps all day, and Mary now has a job selling refrigerators (a relatively new household gadget in 1934) by telephone, that keeps her out all day. To make it all work for the two unwilling tenants, Eckbaum arranges so that neither one ever sees or knows who the other is, but each still manages to get the most dreadful impression of what the other is like, and a series of misunderstandings, and the inevitable crowding that goes on in these situations, leads to a series of increasingly annoying pranks aimed at the other. But their situation really gets complicated when Mary and Jack manage to cross paths and meet out of the apartment, each not knowing who the other is, vis-a-vis the loft, and start to fall in love. And matters get even more complicated (and the comedy ratcheted up several steps higher) by the presence of Robert Benchley as Mary's boss, a lecherous if bumbling executive; Laura Hope Crews as Jack's would-be "patron," a lonely, libidinous older woman with a ton of money; and Guinn Williams as Fritzie, a cab-driver who takes on the role (initially with her encouragement) of Mary's protector.
Critic Reviews for Rafter Romance
Audience Reviews for Rafter Romance
A cute little timewaster starring Ginger Rogers as a financially strapped telemarketer who shares an attic apartment on a shift work basis with an equally strapped nightwatchman/artist, neither ever meeting the other. She stays there at night, he sleeps during the day. Unknowingly, they meet and fall in love, while at the same time leaving each other hateful (and very funny) little notes about each other's living habits. I've never really been a fan of the Rogers/Astaire musicals, but she has always been good in comedies like this one. Note: I'm curious if Billy Wilder was aware of this film while making Sunset Blvd. William Holden tries to sell this story idea almost verbatim to Nancy Olsen.
Rafter Romance Quotes
There are no approved quotes yet for this movie.