Raging Phoenix (Deu suay doo)
(2009)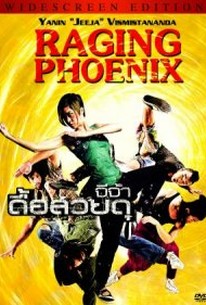 AUDIENCE SCORE
Critic Consensus: No consensus yet.
Raging Phoenix (Deu suay doo) Videos
Raging Phoenix (Deu suay doo) Photos
Movie Info
Chocolate star Jija Yanin uses a revolutionary new form of martial arts to take down a human trafficking ring so formidable that Thailand authorities are powerless to stop it. Girls are vanishing all over Thailand, the unfortunate victims of a gang that kidnaps rich girls for ransom and organ harvesting. Enter Neu (Yanin), a wandering musician who was abandoned by her parents as a young girl, and left to fend for herself on the streets. Upon encountering a mysterious group of young fighters, Neu learns how to combine Muay Thai, drunken boxing, and hip-hop dance techniques in a way that gives her the upper-hand over almost any opponent. Now, the same organization that once terrorized her entire nation is about to crumble, one broken, bleeding henchman at a time. ~ Jason Buchanan, Rovi
Critic Reviews for Raging Phoenix (Deu suay doo)
There are no critic reviews yet for Raging Phoenix (Deu suay doo). Keep checking Rotten Tomatoes for updates!
Audience Reviews for Raging Phoenix (Deu suay doo)
½
Amazing and the best Thai girl fighting movie ever made. This was surprising me personally, because JeeJa Yanin's previous role in Chocolate was so introverted and robotic that it was essentially impossible to determine whether or not this girl could steal a scene without beating someone's brains in. In Raging Phoenix, however, she really cuts loose during the opening half as she jokes around, engages in some funny dialogue, and participates in some light-hearted fight scenes involving drunken styles of martial arts. That one-vs-many boat brawl is - now wait for it - a boat-load of fun. I love the cavern hideout finale lasts a solid 30 minutes is outstanding as well as JeeJa is going to defeat three enemies by herself while her buddies were down. Tell you the truth, I really liked JeeJa's debut movie better than this.
Dean McKenna
Super Reviewer
½
Rashane Limtrakul successfully brings another martial arts action film, known as Raging Phoenix, from Thailand to the screen.
At just under 1 hour and 50 minutes, this picture not only delivers the goods in the martial arts department, but it also finds the time to produce a story that does a little more than fill the scenes between the fights. It is a bit underdeveloped, but points are granted for trying.
There is a ton of action to go around. A lot of it happens in the first half before toning down for the story in the early second half. The film employs a handful of slow motion shots for the big hits; however there are still enough real time shots for some high octane fights. There are also a number of unique moves that are worth multiple viewings.
JeeJa Yanin gets the chance to show that she has some acting talent to go along with her martial arts skills. JeeJa Yanin plus drunken martial arts equals entertainment. The rest of the supporting cast is also pretty good and most of them take part in the action.
Raging Phoenix is another hit in the line of martial arts action movies. Now get drunk and unleash the pain.
A Fantastic movie! Lots of action, Breakdancing mixed with Muay-Thai and drunken Boxing... unbeatable... go and check it out!
EightThirty .
Super Reviewer
Raging Phoenix (Deu suay doo) Quotes
There are no approved quotes yet for this movie.
Discussion Forum
Discuss Raging Phoenix (Deu suay doo) on our Movie forum!