Raise the Red Lantern (Da hong deng long gao gao gua)
(1992)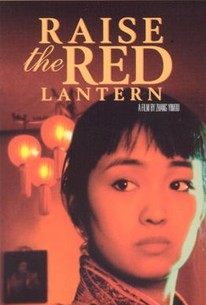 Raise the Red Lantern (Da hong deng long gao gao gua) Photos
Movie Info
The phenomenal success and international acclaim of Raise the Red Lantern, cemented Zhang Yimou's status as a leading figure in world cinema and reaffirmed the vibrancy of Chinese cinema. Though the film was the topic of great political controversy in China upon its release, it received armfuls of awards from Belgium, Italy, the United Kingdom and a nomination for an Academy Award. This sumptuously photographed drama, set in Northern China in the 1920s and based on the novel Wives and Concubines by Su Tong, stars Gong Li as Songlian, the fourth wife of an elderly landlord. Songlian is a college student who has been married off by her stepmother, so it is with tremendous frustration that this woman, who had hopes of using her education to broaden her horizons, now finds herself reduced to a small enclosure at the beck and call of her husband. Despite being given a maid (Kong Lin) and luxurious surroundings, she feels trapped inside the cheerless walls. Upon her arrival, Songlian realizes that she must keep one step ahead of her rivals, the three other wives. She also learns of her husband's tradition of lighting a lantern outside of the house of the wife with whom he intends to spend the night. During the first night together with her husband, she finds he is called away to tend to his spoiled third wife (He Caifei). Songlian then becomes acquainted with his other wives -- his first wife (Jin Shuyuan), an elderly woman who ignores Songlian; the third wife, an ex-opera singer; and the second wife (Cao Cuifeng), who offers Songlian friendship and helpful advice. But it turns out that the second wife's motives are not exactly innocent--she is conspiring with Songlian's maid to undermine both the third wife and Songlian. Raise the Red Lantern is a moving exploration of power in a suffocating world of ossified tradition and naked ambition-a masterpiece of 1990s world cinema.
News & Interviews for Raise the Red Lantern (Da hong deng long gao gao gua)
Critic Reviews for Raise the Red Lantern (Da hong deng long gao gao gua)
Audience Reviews for Raise the Red Lantern (Da hong deng long gao gao gua)
½
A film of sheer formal beauty, with a gorgeous cinematography and a gripping allegoric story about the subjection of women in a patriarchal society, but it is infuriating how it collapses in its last forty minutes, turning into a melodramatic soap opera with a terrible ending.
Carlos Magalhães
Super Reviewer
Loved it. I felt so sorry for these women with no option but to marry a wealthy man and become one of his wives. And then the unnecessary back stabbing of each other and the tragedy at the end. Visually beautiful too with the lanterns and costumes. Even the opera singing was very pretty, which was surprising to me!
Nicki Marie
Super Reviewer
½
A fantastic film about expectations and societal roles. Director Zhang Yimou exhaustively captures the pomp and circumstance of every tradition, beautifully juxtaposing this grandeur with the desperate plight of the concubines. He shows that under all the bizarre foot massages and the ceremonial lighting of the lanterns, there is a group woman eagerly laying in wait for the master to come and bestow upon them his light. Confined to grounds of this temple, or what seems like a very small prison, he captures both the elegance and the crippling confinement that these women call home. Even in this isolated & relatively small space, Yimou makes the stakes feel so high. For me it was an unexpected delight and a film I will not soon forget.
Raise the Red Lantern (Da hong deng long gao gao gua) Quotes
There are no approved quotes yet for this movie.