A Raisin in the Sun
(2008)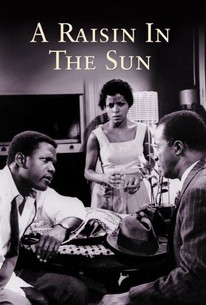 A Raisin in the Sun Photos
Movie Info
The Younger family strives to get out of their ghetto neighborhood on the south side of Chicago. When the patriarch of the family passes away and each family member is handed a slice of the insurance payoff, their escape finally seems possible. Each has a dream, each dream costs money, and each dream has a catch that threatens to tear the family apart.
Critic Reviews for A Raisin in the Sun
Audience Reviews for A Raisin in the Sun
Masterful writing with some truly excellent performances. Really the only downside is the distracting orchestra playing what seemed like continuously in the background. All three women are amazing in their own distinct ways, and Sean Combs, though hardly a marval, holds his own. Interestingly, for me he was more convincing showing his character's flaws than the everday stuff. Phylicia Rashad has a very warm presence and gives a graceful performance. Sanaa Lathan makes what could have been an annoying character in lesser hands and gives her some truth. And Audra McDonald? Loved her. She made me really feel for her trapped, modest, underappreciated housewife. I might make it sound like a heavy-handed contricance, but the film gets by on sheer narrative momentum. A weighty, moving experience about capitalism, racism, family, and integrity in 1950s America.
Joey Nevarez
Super Reviewer
The was a really moving film. Phyllicia Rashad did an amazing performance. This made me want to see the original.
A solid TV movie. I love the stage play. There is a lot for me to identify with in the story though I'm not a racial minority. It was interesting to see the one room stage set expanded upon with some scenes of each character out in the world. Diddy is not bad, but the women steal the show.
Byron Brubaker
Super Reviewer
A Raisin in the Sun Quotes
There are no approved quotes yet for this movie.