Raising Victor Vargas
(2003)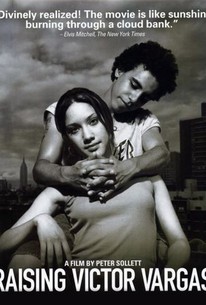 Raising Victor Vargas Photos
Movie Info
A self-styled teenage Romeo, from Manhattan's Lower East Side, is bent on seducing a girl who appears to be well beyond his reach. However, his reputation for seduction, along with the fact that he lives with his grandmother and bothersome brother in a tiny tenement, complicate his plans.
Critic Reviews for Raising Victor Vargas
Audience Reviews for Raising Victor Vargas
½
Much like it's main character, it charms you until you love it.
Idrees Khan
Super Reviewer
Wonderfully acted coming of age story for a small family that learns living life has to be taught to the matriarch of the family first. Cute story told from a different perspective than most have live but still a story many will relate to.
Thomas Johnston
Super Reviewer
Perhaps because I came to this film with very high expectations (96 on the Tomato-meter) I ended up very disappointed, at times wondering, in spite of the very nice performace by the lead, why this film was made? I mean, what did it have to offer that was original or inventive? Nada. The film had so much of a been there, seen that, aspect that I became only vaguely interested in the blossoming love story, or in that of any of the other peripheral charactors. Though real for the most part, I didn't like the way Victor was ridiculed for hanging with a "fat girl", and how Victor later kept making references to his younger sister as "she got fat" said with real derision. While perhaps culturally accurate, perhaps the script would have been better served if the point was for Victor to rise above the obvious - but that would be a totally different (though perhaps better) film. There were some nice and true moments - the way the female lead used Victor as a "beard" to ward off the advances of other over-agressive males; or the side story of both leads best friends slowly exploring their physicality. However, what is the point - haven't we seen all this before? It has been said that this film is a "revelation" as far as its portrayal of NYC burough kids - but again - been there, seen that - for example - Summer of Sam. I dunno, I just couldn't get behind the film. There were too many kind of huh? moments - for example, what the heck is beer doing in the home of Victor's strict grandma - not likely would be an understatement - especially when the apartment only has grandma and three underaged children living in it. Then there's the family reconcilliation scene where they all go to church and pray that the family stays together - I get the message, you don't have to show grandma and ALL THREE kids buying a candle - boy did that slow down the pacing. This leads to the ending where Victor tells his girl that the reason he invited her to "his" place for dinner with the family was because he wanted to show her that his family was "who he is"... hmm, ok, I'll buy that, but again, it was just another flat scene that somehow didn't deliver the emotional punch that it should have. Ditto for the entire film unfortunately.
paul sandberg
Super Reviewer
Raising Victor Vargas Quotes
There are no approved quotes yet for this movie.