Rampage
(1988)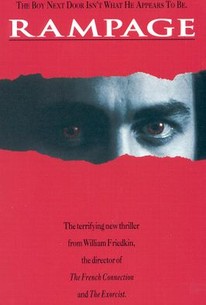 Movie Info
Rampage delves into the subject of legal insanity, so often the default defense in modern-time gruesome crime trials. Alex McArthur plays an outwardly normal guy who goes on incredible killing and mutilating sprees until (and even after, when he escapes for a short time) he's captured. When he comes to trial, the liberal DA (Michael Biehn) is torn between his own leftist leanings and the reality of the heinous crimes for which the accused is being tried. He must argue for the death penalty.
Critic Reviews for Rampage
All Critics (9) | Top Critics (2) | Fresh (4) | Rotten (5)
This is not a movie about murder so much as a movie about insanity -- as it applies to murder in modern American criminal courts. Friedkin plays with two decks and is happy to stack them both.

Chicago Sun-Times
Top Critic
Basically, in re-editing his film to make a cruder point, Friedkin took out the shadings in his characters and the better work of his leads, and in no way whatsoever did he improve the movie. He in fact systematically made it worse.

...never gets under the skin of its protagonist or allows us to understand what he's supposed to be feeling.
Deseret News, Salt Lake City
Audience Reviews for Rampage
The film starts off strongly enough but once it becomes about Friedkin's need to present a pro-death penalty argument in the most one sided fashion imaginable, it becomes dull and occasionally repugnant.
Alec Barniskis
Super Reviewer
Saw this as part of my William Friedkin kick, this is a very unpleasant viewing experience, which is exactly what friedkin wanted to accomplish, so in that sense its a success, i felt bad seeing the people get murdered, i felt bad seeing the victims' families afterwards, i felt bad seeing how the courts treated the case, arguing between death penalty and the insane asylum, there is no right path to take, nothing will bring the victims back or give justice to their families, its just a miserable unfortunate case, and sometimes things like this happen when there are no easy solutions, biehn is as solid as ever, i wish he wouldve gotten bigger roles in his life, good score by my fave composer ennio, just dont expect to feel good after seeing this
Daniel Sloyan
½
Pretty standard crime thriller that doesn't come close to being as good or interesting as better genre outings like Manhunter, Copycat, or The Pledge. William Friedkin is capable of much better than this.
Galen Andrews
Rampage Quotes
There are no approved quotes yet for this movie.
Discussion Forum
Discuss Rampage on our Movie forum!