Rampo
(1995)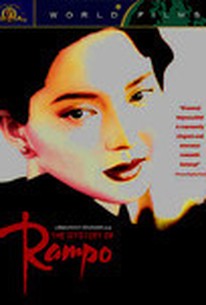 AUDIENCE SCORE
Critic Consensus: No consensus yet.
Movie Info
Edogawa Rampo -- a pen name that is also a homonym in Japanese for Edgar Allen Poe -- amassed a major cult following after writing a series of short stories that masterly meld the erotic and the grotesque. Unlike previous films about of his work -- such as Noboru Tanaka's masterful Stroller in the Attic -- this piece is not so much an adaptation of his work than a dreamlike vision of his inner workings. Set during the 1930s, Rampo (Naoto Takenaka), after learning that his piece Osei Tojo was censored by the government, reads a newspaper article about an incident that bears freakish similarity to his suppressed story. The article details a murder investigation surrounding Sonoko (Michiko Hada), the wife of an antique dealer who was found suffocated in an large oblong chest. At the funeral, Rampo is immediately drawn to Sonoko, who exudes a certain femme fatal magnetism. She fires his creativity and soon he is banging out a sequel to his censored work. In his story, Osei becomes the lover of a debauched aristocrat (Mikijiro Hira) who likes to sexually humiliate the recent widow. Meanwhile, a straight-arrow detective, Kogoro Akechi (Masahiro Motoki), ventures to the count's estate to further investigate the murder. While writing this tale, he passionately pursues Osei in real life -- or at least what he thinks is real life. This film was famous in Japan for its turbulent production history. Producer Kazuyoshi Okuyama was displeased with original director Rintaro Mayuzumi's faithful, delicate version of the film and reshot 80 percent of the film, fashioning it into a flashier, bawdier affair. Both versions were released in Japan. ~ Jonathan Crow, Rovi
Rating:
R
Genre:
, ,
Directed By:
Charlie Yutani
,
Ittoku Kishibe
,
Julie Dreyfus
,
Jyunichi Takagi
,
Kazuyoshi Okuyama
,
Kazuyoski Okuyama
,
Kinji Fukasaku
,
Kirin Kiki
,
Masahiro Motoki
,
Michiko Hada
,
Mikijiro Hira
,
Mikuiro Hira
,
Naoto Takenaka
,
Rintaro Mayuzumi
In Theaters:
On DVD:
Runtime:
Studio:
Hallmark Entertainment
Critic Reviews for Rampo
There are no critic reviews yet for Rampo. Keep checking Rotten Tomatoes for updates!
Audience Reviews for Rampo
Stylish puzzlebox romance about Edogawa Rampo, Japan's answer to Edgar Allan Poe. in Okuyama's film, Rampo becomes infatuated with a femme fatale, who may or may not be a character he has created, and pursues her across the literary/reality divide in the person of his fictious alter-ego. Tricky material played relatively straight, through overlapping reenactments of famous Rampo stories, without any of the PoMo snarkiness of Charlie Kaufman or the bitter cynicism of Woody Allen. Definitely unique.
Gil Gershman
½
Lovely, mysterious, and evocative -- A character study in which the author's grotesque and pulpish creations wander in and out of his life. Has a peculiarly foggy sex scene in which several pornographic movies are superimposed, with shadows superimposed upon THEM, finally with real sex superimposed on it all. Art direction and photography are superb.
Bleak Mouse
This is a very intriguing, beautifully shot film about a fictionalized version of the great Japanese mystery writer Edogawa Rampo. As the movie progresses, reality blends with the fantasy world inside Rampo's head until neither he nor the viewers know exactly what's real, but it's best not to think too hard and instead allow yourself to be whisked away on a wonderful, bizarre ride through the erotic gothic horror world of Rampo. The story is suspenseful, especially at the climax, but then the ending seems a bit sloppy compared to the rest of the plot, and it doesn't tie everything together as well as it should have.
Alyssa Nolan
Rampo Quotes
There are no approved quotes yet for this movie.
Discussion Forum
Discuss Rampo on our Movie forum!