Ratboy
(1986)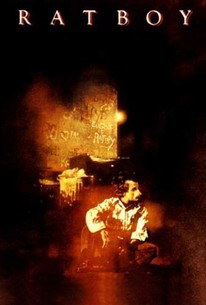 Movie Info
This drama follows an unlikely "ratboy" (S.L. Baird) after he is discovered living in a makeshift shelter in a garbage dump. Along comes Nikki Morrison (Sondra Locke, also the director) who meets the half-rodent, half-human creature and takes him over. She talks to a Hollywood producer and holds forth about him on a television talk show but when she brings ratboy to a press conference, he bolts for freedom -- enough is enough. The garbage dump was better. From that point onward, Nikki begins to change her mind about her treatment of the misbegotten creature and he develops an ambivalent feeling for her.
Rating:
PG-13
Genre:
, ,
Directed By:
Written By:
In Theaters:
Runtime:
Studio:
Warner Bros.
Critic Reviews for Ratboy
Audience Reviews for Ratboy
½
It's "Howard the Ratboy" without the stupid ending like 1986's "Howard the Duck" as this film basically uses the same predictable premise except this time it's a lonely single woman discovering a boy like rat instead of a duck. Of course, the ratboy teaches the woman about love and life.
Barry Lyndon
Simply dreadful. Sondra Locke (who also directed) plays an opportunistic LA woman who discovers a half human/half rat "boy" and decides to exploit him. Sondra is unlikable. Ratboy is unlikable. The whole thing is ridiculous. File this one under "What were they thinking?" Wait - I know what they were thinking. Sondra (who is not a particularly good actress) was Clint Eastwood's girlfriend at the time once again proving: It's not what you know, but who you blow.
Fritz Brekeller
1986 was a big year for movies. Such timeless cinematic classics such as The Karate Kid II, Hoosiers, and Maximum Overdrive ruled supreme in the multiplexes. But amongst all the time-honored pieces of film making released that year I feel that there is one unsung hero we hear so little about today. Ratboy, the dramatic tail (get it TAIL) of a misunderstood half boy half rat who is exploited by a black guy and Clint Eastwood's girlfriend. Many critics dismissed the film as trash upon it's release, but failed to address the very serious subject matter underlying in the story. The film is a tail (get it TAIL lol) of social class opression, a commentary on society's prejudice against rat people, and a story of economic struggle and America's lust for money. Sure this may be NASCAR driver Kyle Busch's favorite movie, but aside from that, this film has gotten no recognition as the contemperary classic that it is. Ratboy went on to inspire such films as Schindler's List, Jurassic Park, The Hurt Locker, and Dr. Dolittle 2
Jake Marley
Ratboy Quotes
There are no approved quotes yet for this movie.
Discussion Forum
Discuss Ratboy on our Movie forum!