Ratcatcher
(1999)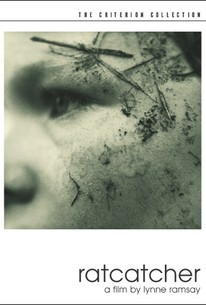 Movie Info
James' family lives in a poor neighborhood of Glasgow in the late 1970s. While they wait for relocation to a nicer part of town, James makes do with playing by the canal with Margaret Anne and Kenny. Margaret Anne is older, and willing to sleep with the local boys for a bit of affection, while Kenny loves animals, but is slow-witted. As the garbage piles up during a prolonged strike by the garbage collectors, James dreams of a better life and tries to escape the realities of his family and personal tragedies. As his family's dream of moving to a new home slowly fades, James also finds himself increasingly estranged from his loved ones and surroundings. The only place where he can find any solace is in a half-constructed housing subdivision in the pastoral suburbs--a bus journey away--for it is here where James feels he truly belongs.
People Who Like this movie also like
News & Interviews for Ratcatcher
Critic Reviews for Ratcatcher
Audience Reviews for Ratcatcher
A gritty, realistic, sort of depressing movie, but if you like those kinds of dramas, it's really good. I think it was a good movie.
This is a film that has always been highly recommended to me and whilst I believe this to be a film that has portrayed a gritty Drama, with a realistic setting and very natural performances, I seemed to have missed the point to the film. the storyline to me failed to deliver a means to an end, which is such a shame because it's of great quality.
Lady D'arbanville
Super Reviewer
In the garbage strewn and rat infested streets of 70's Glasglow, there lies the rudimentary cinematic climax: that of poverty. For the young and still slightly innocent James, his downward spiral into depression starts with the death of a friend, possibly at his own hand. As the film progresses, the gritty reality of living in a slum, smellier than usual thanks to a garbage strike, becomes all too hard for him, and he frequently escapes to a model home in the country. Though he is tormented by a group of spiteful teenage boys, he does meet and fall for a girl who's glasses reside in the canal James fears to enter. The historical context and the ramifications of the many character's actions never fall under plausible. only possible. James' family is awaiting a transfer into a new house as the tenements they live in are being bought and demolished. Hope glides beneath the surface,as they battle each other with hate filled words and violence. The worst horror is the manifestation of bile within James' friend, once a member of the RSPCA, and now he himself kills the rats that infest the garbage piles surrounded them on all sides. Very bleak and dreary, you always wish for something better for James, a protaganist that may be the only unsullied person left.
Spencer S.
Super Reviewer
Ratcatcher Quotes
There are no approved quotes yet for this movie.