Razortooth
(2006)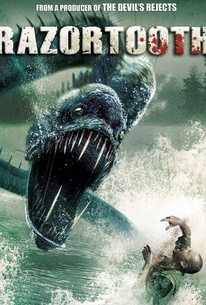 AUDIENCE SCORE
Critic Consensus: No consensus yet.
Movie Info
Four college students take a trip to the Florida Everglades in hopes of earning some extra credit for biology class, and instead find themselves locked in a battle to the death against a genetically modified super-eel created by their own professor. They thought they were going out into the field to conduct some standard research on the common eel, but what these students didn't realize is that their scheming professor has been playing God behind closed doors. Now, in order to make it out of the wilderness in one piece, these students will have to capture and kill the perfect predator. But as the hunt gets underway, the desperate group realizes that an old friend of the professor's is also on the hunt for the very same fish. As if dueling scientists weren't enough to contend with, the local sheriff shows up gunning for two escaped convicts who will stop at nothing to ensure they remain free men. As the struggle for survival gets underway, it quickly becomes apparent that mankind may have just moved down a peg on the food chain.
Critic Reviews for Razortooth
There are no critic reviews yet for Razortooth. Keep checking Rotten Tomatoes for updates!
Audience Reviews for Razortooth
There's a reason so many nature-run-amock movies are getting made, and primarily it's because you don't need to put a lot of thought into them. Nowhere is that lack of imagination more apparent than in "Razortooth", the latest killer animal opus to surface on DVD. This one is about a gigantic, meat-eating eel let loose in the swamps of Florida, even though this was filmed in Louisiana, and it's about as bad as they get. Everything about it is lousy, from the acting to the writing, but in films like this I prefer to focus on the special effects. Everything from the larger than life critter to most of the murders are CGI, and it's all just awful and one more example of why these pictures are so easy to make. The eel is simply laughable in every shot that it's in, and several times it almost looks like a sock puppet. In fact, that might have seemed more realistic. You just have to wonder what's worse: the lazy filmmakers who are just fine with putting out junk like tis or the indiscriminate public who is OK with it being this terrible. Still, there are many other problems here. There are the point of view shots from this enormous creature and yet the people its watching can't see it, or the "dead" guy who can barely keep his eyes shit as our hero riffles through his pockets. And you can't help but laugh at the warning of the dangers of global warming over the credits, even though the film's creature was the result of genetic tinkering. There's a lot wrong with "Razortooth". In fact, I can't think of one thing that's right about it.
Timothy Sanders
This is based on real land walking eels, but the movie exaggerated of course. The CGI made the eel look ridiculous but the movie was fun anyways. The outhouse scene was gross.
Veronica Balli
Razortooth has all the cliches you could ask for in a bad horror film. Fat/illiterate hillbillies (You can find these in just about every horror film,) a group of clueless friends you won't give two shits about... and, of course, awful CGI. Enjoy.
Bloodmarsh Krackoon
Razortooth Quotes
There are no approved quotes yet for this movie.
Discussion Forum
Discuss Razortooth on our Movie forum!