Re-Kill
(2011)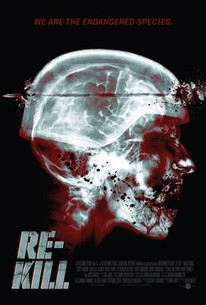 AUDIENCE SCORE
Critic Consensus: No consensus yet.
Movie Info
It's been 5 years since the outbreak that wiped out 85% of the world's population, but the war between Re-Animates (Re-Ans) and Humans wages on. Most of the major cities are still uninhabitable. Within the few surviving cities, the Re-Ans have been segregated into "zones" and are policed by the R-Division of the QUASI S.W.A.T. Unit who hunt to re-kill the Re-Ans in the hope of quelling a second outbreak. "R-Division, Frontline" is America's #1 TV show in this Post-Apocalyptic world. Weekly, the show follows different R-Division units on the battlefield as they work to keep America Safe and Re-An free. Jimmy, the videographer for the Outbreak Network, thought this week's episode would be like every other. He was wrong. Through the lens of his eyes and camera, we see raw, revealed and uncut, that which could be mankind's last day. The footage you are about to see is graphic and disturbing and may not be suitable for children. Viewer discretion is highly advised. -- (C) After Dark
Critic Reviews for Re-Kill
There are no critic reviews yet for Re-Kill. Keep checking Rotten Tomatoes for updates!
Audience Reviews for Re-Kill
Re-Kill is the definition of a good idea completely shattered by poor execution and worst of all: the shittiest camera-work I've ever seen in my life; it's completely unwatchable. This is a found-footage zombie movie told from the perspective of a few cameramen from a reality TV show following soldiers who hunt the undead. The world this movie inhabits is quite funny, with satirical commercials for prescription meds that will cure your zombie bite, sexually charged re-population advertisements, and some spoof news, but Starship Troopers it is not, and these are about as clever as it gets. The acting/characters are god-awful, with every type of cliched soldier-trope presented on screen from the loose cannon to the religious nut job...real original. I wasn't kidding when I spoke of how terrible the camerawork is, the shaky cam is so constant you literally can't tell what is happening during any of it and it will surely give you a headache trying to focus on it. The movie also gleefully cheats with its camera perspective having multiple camermen in one scene, just the main one in the others, and even a scene where the cameraman isn't present, yet we're still seeing what's going on and I can't ignore these glaring errors. Don't waste your time with this; as cool as it looks and sounds, the execution is so painfully bad you'll want to shut it off ten minutes in...I wish I had.
Brett Horton
This movie is shot documentary style. It's pretty much a fake documentary about soldiers who hunt and kill zombies after the outbreak as the world is trying to heal. There are even commercials promoting smoking, sex, and prescription drugs. I usually hate documentary style movies like this, but I sat through it and was kind of entertained, so it's definitely not terrible. The characters don't have a lot of personality. It's like it doesn't have one star character for anyone to relate to. Other than that it's worth a watch.
Krystal Henry
I seriously enjoyed this film. Loved the TV show/documentary format (complete with hilariously campy commercials) that this movie had. Great action sequences and cool story.
Stephen Skudlarek
Super Reviewer
Re-Kill Quotes
There are no approved quotes yet for this movie.
Discussion Forum
Discuss Re-Kill on our Movie forum!