Re-Animated
(2006)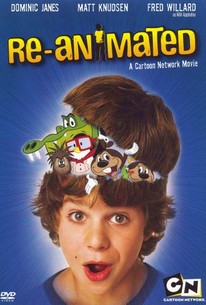 AUDIENCE SCORE
Critic Consensus: No consensus yet.
Movie Info
When the brain of a talented animator is transplanted into the body of a twelve year-old boy who was done in by a theme park trolley, life becomes a cartoon in this outrageous adventure for the whole family. Milt Appleday was the man behind some of the most popular cartoons ever drawn. But Milt knew he wouldn't live forever, so before the cartoonist died he made arrangements to have his brain put on ice. Twelve year-old Jimmy Roberts was one of the deceased animator's biggest fans, and one day while visiting Milt Appleday's Gollyworld he is sadly flattened by a runaway trolley. The time has finally come to install Milt's brain in a new host body, and what better candidate than a young boy who doesn't need his own grey matter anymore? Now, as Jimmy wakes up to discover a rich world of animated characters that only he can see, everyday life suddenly becomes a bit more interesting.
Rating:
NR
Genre:
, , ,
Directed By:
Written By:
In Theaters:
On DVD:
Runtime:
Studio:
Cartoon Network
Audience Reviews for Re-Animated
½
Although this movie was nothing to write home about and was simple (and unoriginal). It did spawn a show on cartoon network that would go down as the worst show on the network by fans, and I don't even remember it.
Joetaeb Dubder
This is the movie where Cartoon Network went to hell as a Channel. This movie is where they first tried live action for the first time. And man was it bad. Also what really surprises me is that Renagade the people behind really good cartoons like Hi Hi Puffy Ami Yumi, and The Mr.Men show reboot did the animation? What? They had such good things going for them as a studio, and they killed their credibility with this. I mean I could see why Cartoon Network tried doing this. I mean Who Framed Roger Rabbit remains one of Dinsey's Absolute best movies, and I could see why they'd want to get in on that, but this movie is unforgivably bad. Fuck you Cartoon Network, this film offended me as a long time fan.
Dammy Goldstein
This is the worst TV kids movie I have ever seen, & the abortion of CartoonNetwork, which later became a sin TV series of the abortion! It also cause the downfall of that once great channel. Now, Cartoon Network after 2003 hasn't made many good animated shows, but the ones that were saving it from utter downhill were Xiaolin Showdown, Flapjack, Chowder, My Gym Partner is a Monkey, Camp Lazlo, Ben 10 [Alien Force], Skunk Fu, & a handful of others. But once CN decided to create a 'live-action' movie, oh man, I knew trouble was coming. The network is called CARTOONNetwork for a reason! But trust me, this movie being live action & later becoming a live-action series (thankfully later cancelled) is not the problem with this movie or the show, in fact, it's the least of it's problems. This movie has horrible acting, horrible beyond words! You want to know how bad the acting is? It makes the acting in the first 3 Twilight movies, Pokemon 2000's voice acting, Dungeons & Dragons, Marmaduke, & The Haunting look phenomenal. Yeah it's that bad. In other words, the acting is just as bad as the acting in The Adventures of Sharkboy & Lavagirl, & Jonas Brothers the 3D concert Experience. The characters? Annoying, & cliche beyond words! All unlikable, horribly depthless, & laughably bad. They make Edward, Jacob, & Bella Swan look more useful, & likable in the first 3 films, & full of more depth. The dialogue...I have no words for it. Just let me say that the dialogue in New Moon & Crossroads is better than this. This movie is just as bad as Camp Rock, The Naked Brothers Band Movie, & that Ben 10 Live Action movie! As for the show it later became, oh man, there are no words to how bad that show is. The show was an abortion of an abortion, & CartoonNetwork's biggest sin of a show. The acting in the show was a lot worse, A LOT! Surprisingly worse than the acting in Jonas L.A. & Shake it Up, but the show as a whole is just as bad. The whole concept of retarded, literally. I can compare it to shows like The Naked Brothers Band, & ANY of the recent shitty live action shows on Disney Channel. But only this show landed on the list of one of the worst shows ever made (it deserves it, but I also wonder how Disney Channels' shows didn't land on that list either). The villain of the show? He is so bad, & annoying, that he makes the villain in "Meet the Robinsons", & Gargamel from The Smurfs look like Voldemort. No, the show is really that bad. It makes Nickelodeon's shit shows like Big Time Rush, Victorious, Fanboy & Chum Chum, & The Penguins of Madagascar look Emmy-worthy. So all in all, this is the worst show, live-action movie, & idea CartoonNetwork has ever done, & one of the worst ever. Trust me, you can eat the shittiest kids show on Nickelodeon, CartoonNetwork, & Disney Channel, & crap better shit than this. How CartoonNetwork stooped so, low I will never know.
Frisby 2007
Super Reviewer
Re-Animated Quotes
| | |
| --- | --- |
| Sonny Appleday: | My lip piece. |
| Dad: | See. it's totally your mother. |
| Yancy: | What is wrong with you? |
| Sonny Appleday: | It make me feel important. |
| Dad: | Big kiss. |
| Sonny Appleday: | Forget you people. I'm getting my brain. |
| Dad: | See you at the house. |