Rebirth
(2016)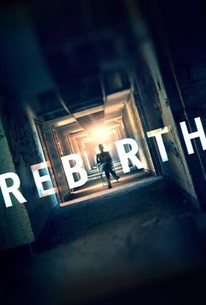 AUDIENCE SCORE
Critic Consensus: No consensus yet.
Movie Info
Kyle (Fran Kranz), a cubicle drone who's grown bored with his job and family responsibilities, is shocked when his hard-partying college friend Zack (Adam Goldberg) shows up at his office. Zack convinces Kyle to join him on a weekend retreat involving a self-help program called "Rebirth," but what seems like an opportunity for Kyle to get his priorities in order soon turns into a surrealistic nightmare. Pat Healy and Harry Hamlin co-star. Written and directed by Karl Mueller, Rebirth made its world premiere at the 2016 Tribeca Film Festival.
Critic Reviews for Rebirth
Audience Reviews for Rebirth
Calls out society for being pretentious and trying to be something you're not, but is entirely pretence and trying to be better movies that came before it like Fight Club. Fran Kranz is good in it I guess.
½
Chaotic plotting and infuriating characters make this unconvincing and ludicrously far-fetched film a slog to sit through, though it's almost worth it for Fran Kranz's hairy chest.
Daniel Parsons
Super Reviewer
Conceptually speaking, this movie is actually really interesting. The execution is where the film has its faults. First things first, let's start with the story. Kyle leads a fairly boring suburban existence with his wife and daughter. He loves both of them, of course, but his daily life is the same thing over and over again without much variation. So, one day an old friend from college, who has not changed one bit from his wild and crazy lifestyle he had, comes to visit him at work with a proposition to go to this weekend program that's called, you guessed it, Rebirth. It's a program that, supposedly, changes the way you live your life entirely, leaving the zombie world, as they call it, where the normals live I guess, behind. Naturally, Kyle is really intrigued by this concept as, again, his life isn't all that exciting. He's looking for something new, something to reinvigorate him. So, naturally, he goes to this retreat and he is forced to give up his cell phone on the ride to the retreat. When he gets there, Kyle is a little bit taken aback by their approach to self-help or self-actualization, and he finds it a little bit absurd. He doesn't necessarily think he's above it all, but he just finds everything a little odd. Everything that happens next is really kind of a blur, to be completely honest. One of the main problems with the film is that the scripting isn't really all that great. Like the film just moves from situation to situation without any real regard for any actual progression. Kyle spends 80% of the movie trying to leave the retreat, only for him to be forced further and further down a rabbit hole, as it were. But there's no real sense to it all. It's like a series of skits, where Kyle finds his own way through this building, unable to escape. There's no actual narrative, for the most part. Once Kyle finds his way back home, there is actually some semblance of one. It's just a shame that it's too late by that point. But we'll come back to that later. I'll continue with another one of my complaints. Look, I think Fran Kanz is a good enough actor. I actually like him, but it's really hard to take him seriously in these types of roles. His voice doesn't help, but that's not really even it. There's just a certain way that he delivers lines in this film that make him seem far more comical than he probably wanted to be. And I don't know if that's what they were going for. There are some funny parts to the film, for sure, but I'm referencing some of the more 'dramatic' moments, like when Kyle finds out that the retreat is actually somewhat of a prank/scam started by Zack, the friend that invited him in the first place. This is where they reveal all of its card. Essentially, Zack started Rebirth as a way to scam people out of their money and get them to spread the word of Rebirth in order to, pretty much, take over the world, or the U.S, with their cult and their ideals. I'm assuming that every single person in the Rebirth program went through the same exact thing that Kyle went through, where his entire life savings were drained out of their bank account and were given back to them once they 'made a donation' and endorsed Rebirth as being a life-changing program. This is actually a really cool concept and you even get to see an infomercial during the credits for Rebirth that shows that they've actually expanded exponentially since the film's events. The point is that, to me, the more interesting story to tell is one where Kyle is already a member of Rebirth at the start of the movie, or his joining takes up the first 30 minutes of the film. The rest of it would see Kyle trying to take down Rebirth right from the inside. Like you get to see the growth in film and see how influential they are. That, to me, is a more interesting movie and story to tell. I know I'm supposed to review a film based on what is shown to me and not what I wanted it to be. But I'm not holding it against the film, the score will be what the score will be regardless of my suggestion. But it's just an idea that, I felt, would make for a better movie. Maybe there's a sequel planned, who knows, that explores these ideas further. But I wouldn't count on that. Either way, this is an ok film at best. There's nothing here that you really need to see. It's just got poor and uninteresting plot progression. Some decent ideas and a good third act help alleviate that, but this ends up being nothing more than just a slightly below average film.
Jesse Ortega
Super Reviewer
Rebirth Quotes
There are no approved quotes yet for this movie.