Reborn (Machined Reborn)
(2009)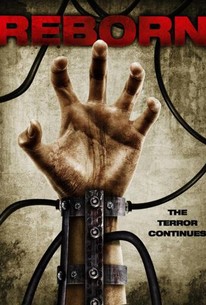 AUDIENCE SCORE
Critic Consensus: No consensus yet.
Reborn (Machined Reborn) Videos
Reborn (Machined Reborn) Photos
Movie Info
Director Craig McMahon takes the helm for this sequel to his 2005 shocker Reborn. A young couple seeking to start a life together purchases a large plot of land in the Sonoran Desert. At first glance the land looks like the perfect place to build a house and start a family, though closer inspection quickly reveals that something terrible has taken place there. This scenic, secluded plot was the very place the notorious serial killer known as Motorman Dan would torture and slaughter his pleading victims. Now Motorman Dan is back, and he's determined to take back what is rightfully his. Anyone who stands in his way will suffer unimaginable pain, and as the bloodletting begins, the desperate couple fights back against their sadistic tormentor with everything they've got.
Rating:
R
Genre:
Directed By:
Written By:
In Theaters:
On DVD:
Runtime:
Studio:
LionsGate Entertainment
Critic Reviews for Reborn (Machined Reborn)
There are no critic reviews yet for Reborn (Machined Reborn). Keep checking Rotten Tomatoes for updates!
Audience Reviews for Reborn (Machined Reborn)
A sleazy piece of filmmaking, like its predecessor, Reborn again delivers on the slummy gore, but it still lacks anything to make it truly memorable....
Al Miller
½
This movie really isn't all that great. Again: I love their idea...but the way they filmed it was just horrible. And they have to have a better villian than this fat, humerous dude...He's not even scary. If your making a horror movie, you have to make the antagonist scary, creepy, sadistic, or else it won't be that good. Anyways, I did give it some credit due to the blood\gore scenes, but that's really the only good thing in here. I was disapointed with this film, and i think they could've done better.
Jacob Palacio
Super Reviewer
½
Larry the Cable Guy takes over the role of Jigsaw in this rip-off of the "Saw" franchise. The plot, such as it is: a couple buys a junkyard, not knowing that a series of killings took place there a few years before. Squirreled away somewhere in the mess is a huge, sweaty redneck who likes to torture people using items found lying around a typical garage. He kidnaps the wife, straps her into a chair, and blackmails the husband into killing whomever comes onto the property. The husband gets shot in the face during a robbery attempt, goes crazy, builds himself a suit of armor, and kills people with a sword. Pretty thin stuff, aside from the obese redneck torture-master. What's really strange is how people in this film turn insane when they get injured. What's even stranger is that this dull and derivative torture flick ever got made. There's an attempt to make it interesting by having the husband/killer build himself a suit of armor that he bolts directly onto his body, but the gimmick doesn't go very far and, aside from making him look like a baseball catcher in a spiky can, it doesn't figure into the events in the film. He does now how to open his eyes really, really wide and not blink for extended periods, so he's got that going for him. Leave this one in the junkyard.
Brian Seitzman