Rebound: The Legend of Earl the Goat Manigault
(1996)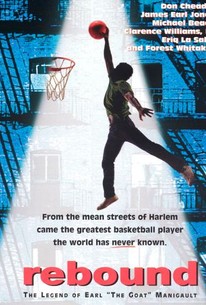 AUDIENCE SCORE
Critic Consensus: No consensus yet.
Rebound: The Legend of Earl the Goat Manigault Videos
Rebound: The Legend of Earl the Goat Manigault Photos
Movie Info
In this inspirational sports drama, a talented but drug-addicted basketball player cleans up his act and devotes his life to teaching Harlem children to play the game.
Rating:
R (adult situations/language, sex, violence)
Genre:
,
Directed By:
Written By:
In Theaters:
On DVD:
Runtime:
Studio:
HBO Video
Critic Reviews for Rebound: The Legend of Earl the Goat Manigault
There are no critic reviews yet for Rebound: The Legend of Earl the Goat Manigault. Keep checking Rotten Tomatoes for updates!
Audience Reviews for Rebound: The Legend of Earl the Goat Manigault
½
[img]http://goat82.interfree.it/Materiale/cover.jpg[/img] Like all the best movies no one has heard about, [b]Rebound: The Legend of Earl "The Goat" Manigault[/b] was produced and shown on [b]HBO [/b]in 1996. I was thirteen. And it was the first film about heroin and basketball I'd ever seen. To this day, however, it still remains the best film about basketball, save [b]Hoop Dreams[/b]...but that's a documentary. [b]Rebound [/b]is a sobering biography about the best basketball player who ever lived and his struggle with heroin. And unlike [b]Requiem for a Dream[/b], which is a scare tactic with art-school visuals, [b]Rebound [/b]focuses on usage and the surroundings; homelessness. The steam coming up from the sewers, the wet pavement, and a bad liver's grogginess. This was also [b]Don Cheadle's[/b] first starring role and definitely still his best. HBO has always put out wonderful things, and [b]Rebound[/b] stands today as a 'tragic and uplifting' take on divine healing that'll make you cry. ... [b]Jesus' Son [/b]is it's quirky compatriot containing [b]Billy Crudup's [/b]best performance; also one of my favwite films. [left][img]http://www.moviemaker.com/issues/45/images/crudup.jesus%27-son.jpg[/img][/left] [left]...[/left] [left][img]http://images.amazon.com/images/P/6305161941.01.LZZZZZZZ.jpg[/img] Another [b]HBO [/b]film that is tragically ignored comes close to being the best war film (that goes to [b]The Thin Red Line[/b]). [b]When Trumpets Fade[/b] was broadcast on HBO in 1998, the same year, and right around the same time, as [b]Spielberg's[/b] moral-bullshit epic [b]Saving Private Ryan[/b] (which is good).[/left] [left][i]The battle, one of the bloodiest in the history of modern warfare and one of the most unneccessary, was fought near Aachen in a forest approximately 14 miles square. It was fought mostly by the 12th, 8th and 28th Divisions all of which were nearly decimated. Because of its tactical uselessness the United States Government all but denied the entire affair ever happened until we involved ourselves in Viet Nam, an affair Hurtgen should have warned us against entirely. The uselessness ended only when the German's pulled their forces out of the Battle to engage themselves in the Battle Of The Bulge. (author credited)[/i][/left] [left][b][img]http://us.ent4.yimg.com/movies.yahoo.com/images/hv/photo/movie_pix/paramount_classics/just_a_kiss/ron_eldard/kiss.jpg[/img][/b][/left] [left][b]Ron Eldard[/b] plays a thoroughly unpatriotic and cynical loner who survives battle after battle miraculously to which his superiors promote him with a platoon of new recruits to lead into the meat grinder. Don't really know much about his other works, but he was pretty damn good in this film, even if it mostly contains soldiers screaming, wetting themselves, and running the opposite way. I don't think Hollywood would have stood for this...again...thanks be to Home Box Office. It sucks when a film is important yet has no audience.[/left] [left]Dwight Yokam also has a part as a stubborn superior who keeps ordering the failed attacks. He's pretty good.[/left] [left][img]http://www.dvdplaza.fi/reviews/images/whentrumpets_2.jpg[/img] ("don't you love my gloves, corporal?") [/left] When the soldiers do march on occupied territory, into howitzers and fog, they each whisper to each other, "nobody dies." The phrase is a reference to the book and film "A Walk in the Sun (1945)", where "Nobody Dies" is the platoon motto. Both book and film deal with similar effects of war as "When Trumpets Fade". [left][img]http://www.dvdplaza.fi/reviews/images/whentrumpets_4.jpg[/img][/left] [left]Everybody died. (edit: [b]A Midnight Clear[/b] is also an excellent and overlooked war film) [/left]
Water Cooler
Rebound is about Earl "the goat" Manigault a play ground legend who had it all. but do to drugs n crime it all came to a hault. This is a amazing story about a usung legend, This is the firs movie i reconize Don cheadle in, and prolly his best preformance a must hace and a must see
khalvic brown
Super Reviewer
Best basketball ever. Hands down. Also has a cameo from Kevin Garnett playing Wilt the Stilt. One of Cheadle's best.
Cable _
Rebound: The Legend of Earl the Goat Manigault Quotes
There are no approved quotes yet for this movie.