Red Canyon
(2008)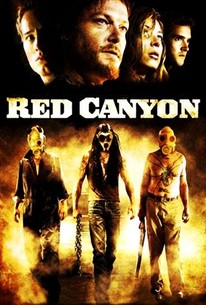 AUDIENCE SCORE
Critic Consensus: No consensus yet.
Movie Info
A trip through the Utah badlands turns into a struggle for survival when a pair of siblings returning home to sell their late mother's property are hunted through the desert by a group of sadistic locals. Devin (Tim Draxl) and Regnia (Christine Lakin) were returning to their hometown of Cainville for one last time. Once their business has been accomplished, they will finally be able to let go of the past and move on with their lives. Joining Devin and Regina on their trip are Terra (Katie Maguire), Tom (Justin Hartely), and Samir (Ankhur Bhatt), three friends who have come to the desert to ride their motorcycles while Devon clears up issues of the family estate with Walter (Walter Rodriguez). Later, at a local watering hole, Devin and Regina have a disturbing encounter with resentful Caineville locals Mac (Norman Reedus) and Harley (Noah Fliess), neither of whom are happy to see the siblings back in town. When Regina is attacked by a dog, the injured girl seeks shelter in the cave where she had spent much of her childhood. But there is no safety to be found in this desert, because by returning to Caineville Devin and Regina have awoken some old ghosts that won't rest easy until their ties to the past have been permanently severed.
Rating:
R (for strong violence including rape, language, some drug and sexual content.)
Genre:
, ,
Directed By:
Written By:
In Theaters:
On DVD:
Runtime:
Studio:
Boot Girl Production
Critic Reviews for Red Canyon
All Critics (1) | Fresh (1) | Rotten (0)
Rodriguez weaves an incestuous blurring of genres - now amnesiac psychodrama, now desert gothic, now grotesque slash-n-dash, now perverted tragedy - that is genuinely disorienting

Audience Reviews for Red Canyon
Red Canyon (Giovanni Rodriguez, 2008) You've seen this plot before (if you're me, you've even seen it in the last week): traumatized young thing Regina (The Hottie and the Nottie's Christine Lakin) is brought by her brother Devon (Swimming Upstream's Tim Draxl) back to the family homestead so they can sell the place, but it turns out that the traumatic event that made Regina go bats in the first place is waiting in the wings: it has something to do with Mac (The Boondock Saints' Norman Reedus), the local meth dealer, and she has to figure out what it is before (a) it happens again and/or (b) she goes nuts. (And if you can't figure out what it is from even that vague synopsis, then let me recommend you Laurie Halse Anderson's book Speak, where most of us figured out the EXACT SAME TWIST from reading the jacket copy.) Even given that it's entirely predictable, it's not a total lost cause. Reedus plays a slimeball with aplomb, even when he's the good guy (viz. Boondock Saints), and his performance here is chilling. Lakin is better when she's imitating Barbara from Night of the Living Dead, but between her and Reedus, they almost pull the rest of the cast out of the crapper. Not quite, but almost.Sonnel Velazquez' cinematography is great when he's doing wide-open spaces, but he's got to work on the cramped cave shots. He's got a future in front of him, though. Not a complete waste of time. **
Robert Beveridge
God, I loved this movie - it's different and unique and totally kicked ass! Jesus, Tim Draxl is fantastic in this. Where has this guy been - he's one of the best actors I've seen in years who isn't some kind of superstar.
Stella Pritan
I wanted to see this for awhile - Reedus is my boy. This was a pretty freaky movie - and you actually had to think a little. It didn't spoon feed you - maybe one of the first horror films that felt like it was for adults. I grew up on all the favs - Halloween, Nightmare on Elm, etc... and this had the feel of the original movies - although it's not a carbon copy of anything. Good. Way to go Normie.
Bo Johnson
Red Canyon Quotes
There are no approved quotes yet for this movie.