Red Cliff Part II (Chi Bi 2)
(2009)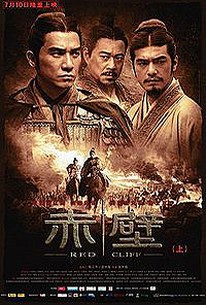 AUDIENCE SCORE
Critic Consensus: No consensus yet.
Movie Info
Too epic in scope to be contained in just one film, the historical saga that began in John Woo's Red Cliff heats up as Prime Minister-turned-General Cao Cao (Zhang Fengyi) leads the Emperor's army southward to do battle with a small but resolute coalition led by fierce opponent Zhou Yu (Tony Leung Chiu-Wai). Incensed at the rebellion displayed by southern warlords Liu Bei (You Yong) and Sun Quan (Chang Chen), Emperor Xian (Wang Ning) grants his trusted General Cao Cao permission to crush their outspoken opponents. But the journey south isn't easy for Emperor Xian's massive military, and before long, the soldiers are tiring from lack of water and sheer exhaustion. Meanwhile, Zhou Yu's army draws a line in the sand and prepares to defend it with their lives. When typhoid breaks out among Cao Cao's troops, the quick-thinking strategist successfully infects Zhou's army with the disease, causing the latter to realize that psychological warfare has finally come into play. Subsequently deserted by Liu Bei, Zhou prepares to lead an army of approximately 30,000 men against Cao Cao's massive force of several hundred thousand. The battle drawing near, Zhuge Liang (Takeshi Kaneshiro) resorts to some clever tactics in order to undermine Cao Cao, and undercover princess Sun Shangxiang (Vicki Zhao) delivers secret messages from the Cao Cao's camp. As violence erupts on the Yangtze River, Zhou Yu's wife (Lin Chi-Ling) emerges to play an unexpectedly crucial role in the historical proceedings. ~ Jason Buchanan, Rovi
Rating:
R (for sequences of epic warfare)
Genre:
,
Directed By:
In Theaters:
On DVD:
Runtime:
Studio:
Critic Reviews for Red Cliff Part II (Chi Bi 2)
There are no critic reviews yet for Red Cliff Part II (Chi Bi 2). Keep checking Rotten Tomatoes for updates!
Audience Reviews for Red Cliff Part II (Chi Bi 2)
The international release of Red Cliff was in fact a heavily edited amalgam of Chi Bi and Chi Bi II, each of which weigh in at the same length as Red Cliff itself so you can imagine how much of the story was lost in translation. Luckily the Blu Ray release features both parts of epic in full and so restores all of the scenes lost to the cutting room floor. The main difference is in the rich background stories of the characters that make for a more satisfying context for the monumental battles. Woo's metaphors may be a little unsubtle but his visualisations are stunning and there's a lot more character and humour on display, particularly involving the feisty Chiling Lin and her mission behind enemy lines. It's also very well paced considering its four and three quarter hour length and the stunning visuals lend themselves to the Blu Ray format perfectly. Part II may get a little too carried away with visual spectacle at the expense of coherent story telling, but this historical epic is certainly the best thing John Woo has done in many, many years.
½
John Woo's epic movie about the historical Chinese battle at the red cliffs has everything you expect from a film of such a scale: interesting characters that grow on you, a great soundtrack, huge spectacle and gorgeous shots, lots of (surprisingly unbloody ) fights and battles, some of which are of course as exaggerated and silly as expected from Asian cinema. Even the shorter cut of the film feels a bit long in the middle part. But the final battle and all the tactics that come with it are really great and offer very enthralling entertainment. It all culminates in an almost Tarantino-esque standoff between the main characters that literally has you on the edge of your seat. Thankfully, while some of his trademarks can be found throughout the film, Woo does not go overboard with his slow-motions or dramatically flying doves. Of course he still had to add a dove, though. Still, great and huge historical cinema.
½
With the successful implementation of Red Cliff, John Woo finishes up his story with Red Cliff II.
During the opening credits of this picture, there is a catchup session that explains what has happened so far from the first Red Cliff installment. However, this is more of a refresher for those who have seen the first film and not a fill in for those who haven't. Watching the first movie is highly recommended.
So, the character introductions and development are out of the way and with no more major characters to introduce, this 2 hour 20 minute film needs to rely on the story and the action. Yes, most of the story is built up, but John Woo is able to keep things interesting as the two sides seemingly outwit each other to get the upper hand before the final battle. It is a bit slow at times, especially with all the action appearing at the end, but the film is still able to entertain.
The final 40 minutes consists of a single large scale battle. The martial arts choreography is cut back as Woo focuses less on single character fights and more on the battle as a whole. The usage of fire and unique battle formations make for some creative action sequences until the conclusive showdown.
All of the cast return yet again and it is the same Takeshi Kaneshiro and Zhao Wei, who has a more integral role this time around, that entertain the most.
Red Cliff II is a good sequel and continuation. Fans of the first film will enjoy this one as well.