Red Alert: The War Within
(2010)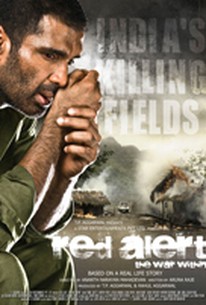 Red Alert: The War Within Photos
Movie Info
'Red Alert: The War Within' is based on the true story of Narasimha (Suniel Shetty), a poor farm labourer who desperately needs money to fund the education of his children. To earn his way, he finds himself in the midst of the Naxalite movement, forced to make difficult, and morally questionable, choices. At first, he starts as a mere cook for the terrorist group. Before too long, he graduates to weapons training, shootouts and kidnappings. A good, kind man trying to earn for his family, Narasimha finds himself in a position he had never bargained for; a man left with no choices. The conflicted Narasimha's life gets more complicated when a confrontation with the group leader turns his world upside down; now he's caught in the middle of the law and the militants. The only way Narasimha can survive is when he finally takes matters into his own hands. Does he follow his conscience and thwart the movement? Or, does he look out for himself and his family, and embrace the Naxal cause? Though 'Red Alert: The War Within' is the account of one man, it embodies the true conflict facing the impoverished: Do we fight to protect a nation that has forgotten us? Or, do we fight to survive and feed ourselves? Do we really have any choice? 'Red Alert: The War Within' is based on a real life story, culled straight from today's torrid headlines. --© Madhu
Rating:
NR
Genre:
, , ,
Directed By:
Written By:
In Theaters:
Runtime:
Studio:
Critic Reviews for Red Alert: The War Within
Audience Reviews for Red Alert: The War Within
Though he turns in an earnest performance, Suniel Shetty is just not built to play a poor farmer. The movie starts off okay, but then peters out - first into predictable territory and then towards the end into a farce. It raises some important questions but offers no answers. One of the most awkward of those questions is - 'What was Naseeruddin Shah doing in this movie?'
Urmilesh Dixit
Drama, Harsh reality, a bit boring! - About a harsh reality of (Nexal Movement) how Farmers (land) have been getting exploited by their local Landlords (& have to Fight for Food, Education, & Land)! - Moral: Sometimes Educated learn from Uneducated (Violence is never an answer)!
MyFriendAli .
Red Alert: The War Within Quotes
There are no approved quotes yet for this movie.
Discussion Forum
Discuss Red Alert: The War Within on our Movie forum!