Un Oso rojo (Red Bear)
(2004)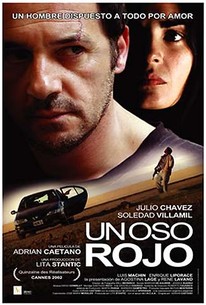 Movie Info
Oso (Julio Chávez), also known as "The Bear," is released from prison after seven years. In flashback, we see the robbery and shoot-out with police that led to his arrest, which took place on his daughter's first birthday. He returns to his hometown, a depressed suburb of Buenos Aires, fully aware that his wife, Natalia (Soledad Villamil), has moved on and is living with another man, Sergio (Luis Machín). But he's determined to establish a relationship with Alicia (Agostina Lage), his daughter, and to collect the money owed to him by an oily local crime lord known as "The Turk" (René Lavan). Of course, things don't go exactly as Oso would like. Natalia, knowing that Sergio feels threatened, is conflicted about allowing Oso to see Alicia. Oso soon learns that Sergio is unemployed, and gambles away what little money he has, amassing a sizeable debt with a thuggish bookie. The Turk, meanwhile, will only pay his debt if Oso agrees to be the getaway driver on one last big job. For her part, Alicia seems fascinated with her father, though, and makes him promise never to go away again. Co-written and directed by Adrián Caetano (Pizza, Birra, Faso), Red Bear was shown at New Directors/New Films in 2003. ~ Josh Ralske, Rovi
Rating:
NR
Genre:
,
Directed By:
Written By:
In Theaters:
On DVD:
Runtime:
Critic Reviews for Un Oso rojo (Red Bear)
All Critics (5) | Top Critics (1) | Fresh (3) | Rotten (2)
A passable, although unremarkable, exercise in crime-drama formula.

It works mainly because of the strong presence of the imposing figure of Julio Chaves as the Bear, in a brilliantly understated performance.

Ozus' World Movie Reviews
Caetano es un director que prioriza una historia y unos personajes por sobre el despliegue de recursos y efectitos.
Audience Reviews for Un Oso rojo (Red Bear)
½
A surprisingly restrained story of a criminal returning from prison in hopes of being reunited to his daughter. Some remarkable scenes focusing on the relationship between father and daughter, some explosive scenes centering on the violence he commits for the sake of his daughter. But also a lot of dead space.
Cole Brown
(***): [img]http://images.rottentomatoes.com/images/user/icons/icon14.gif[/img] Interesting and well-acted.
TTT C
½
Oso (Bear) is a very bad man-- a cop killer (or at least an accomplice to same) who is being released after he's served his term (this seems like such an odd idea to me as an American-- a cop killer being released after a term of imprisonment rather than getting the death penalty or life imprisonment). But of course he's redeemed by the love of his family, though his estranged wife has taken up with a new man. All the same, he wants to get her his part of the cash from the job that got him in the slammer. Chaos ensues. One is reminded of the FX TV series The Shield-- there is much murder and mayhem, but our antihero is someone who's committed to, as Vic was on The Shield, taking care of his estranged wife and family. Vic of course was a cop, but then again El Oso Rojo is full of corrupt cops so you don't really notice the difference very much; that is, that Oso is a criminal. Oso, played by Julio Chavez, bears some resemblance to Jason Statham-- dark, brooding, such that essentially the movie is a meditation on Chavez's hypermasculine scowl and lack of other obvious affect, intensified by his shaved head and scar on his right (or was it left?) brow. If the movie is taken at face value, I am given to believe that firearms are widely available in Buenos Aires and its surroundings. Given all that, of course, I loved it. But don't think this is some foreign art-house movie. This one review on the official website for the film is entitled "Argentina as the Wild, Wild West." That reminded me of one of Oso's best lines, "toda la guita is afanada," essentially, "all money is stolen money." As a final note, I feel required to say that unlike most Argentine most, the Spanish in El Oso Rojo borders on incomprehensible at times for non-native speakers (of course it's subtitled). It may require another viewing for that reason alone. Apparently Buenos Aires' lower-class suburbs have a language all their own.
Richard Hurst
Un Oso rojo (Red Bear) Quotes
There are no approved quotes yet for this movie.
Discussion Forum
Discuss Un Oso rojo (Red Bear) on our Movie forum!