Red Billabong
(2016)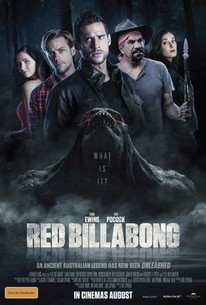 AUDIENCE SCORE
Critic Consensus: No consensus yet.
Movie Info
Two estranged brothers and their friends are pulled into a world of mystery and lies when their grandfather's property is passed into their hands. As both brothers are pulled apart by different choices, one thing is clear - something sinister is going on. As people go missing the brothers learn secrets that will change their life forever, but what is out there? A myth? A hoax? Or could it really be... real?
Critic Reviews for Red Billabong
All Critics (2) | Fresh (2) | Rotten (0)
A very well-made, well-directed film that will satisfy fans of the genre, with the final reel providing a nice pay-off...The problem afflicting too many good Australian films right now is an apparent lack of marketing savvy.
A unique and original creature feature, Red Billabong overcomes any VFX limitations with an intriguing story and truly tense scares, resulting in one of the more innovative and interesting monster movies to be released in some time.
Audience Reviews for Red Billabong
I liked premise and thought the characters worked very well at times. The end result is a mixed bag of missed opportunities and some innovative filmmaking. The director and DOP created a tense final 20 minutes, yet the stakes didn't feel that real. I will give the film strong points for not giving the viewer a cliche conclusion, that is definitely great and works with the story. The film just lacks the scares early on, that intro needed to be a cracker, yet leaned a little to the unnecessary. I'm impressed with what the creators have done with the lack of budget, I'm very confident they will move onto something inspiring that will give them actors with a lot more depth. The end result is scattered, comedy seems forced and not natural at times, actors delivering lines with little care and certain character motivations are questionable. The brother leaves the cave and then remembers his brother is left down in the cave, I really shrugged my shoulders at that one. This may grow into my creature feature collection, only time will tell. I may have only picked the negatives but there are some positives here and I'll certainly watch this again to give a secondary review.
Brendan Nicholls
Super Reviewer
Red Billabong Quotes
There are no approved quotes yet for this movie.
Discussion Forum
Discuss Red Billabong on our Movie forum!