Red Desert
(1964)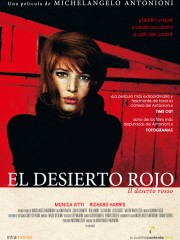 Tickets & Showtimes
Red Desert Trailers & Photos
Movie Info
Red Desert (Il Deserto Rosso) once more combines the considerable talents of director Michelangelo Antonioni and star Monica Vitti. Cast as Giuliana, an unhappy wife, Vitti suffers from an unnamed form of depression and malaise. Her quicksilver emotional shifts disturb everyone around her, but they, like she, pretend that nothing is truly wrong. British engineer Corrado Zeller (Richard Harris) seems to understand what Giuliana is really after in life, and he acts upon it by entering into an affair with the troubled woman. Giuliana eventually comes to terms with her physical and mental pain, but this hardly means that she's "cured" in the conventional sense. Monica Vitti's sense of isolation is heightened by Antonioni's (and cinematographer Carlo DiPalma's) choice of colors, and especially by Carlo Savina's bizarre electronic musical score. This is a landmark movie in Antonioni's effort to portray alienated individuals in contemporary life; he places people against towering forms of technology to emphasize their smallness and lostness in the modern world of technological change. ~ Hal Erickson, Rovi
more
Cast
News & Interviews for Red Desert
Critic Reviews for Red Desert
Audience Reviews for Red Desert
½
Absolutely stunning! Environmental composition, landscape, and color have never been used so effectively to convey state of mind. The industrial climate is an apt counterpoint to Vitti's neuroticism and lack of adaptibility. A daring and innovative cinematic achievement!!
Well, no one can accuse this film of having too much plot. But the lead actors are charismatic, and the landscapes are striking.

Really, it's more of a situation than a story. The setting is a drab, seaside industrial factory. The sky is overcast and foggy. The water is choked with pollution. Monica Vitti plays the plant manager's wife, who is fresh from a suicide attempt. The implication is that her alienation and anxieties are a product of our modern, industrialized society. She dotes on her young son, but even he adds to her worries by faking polio for attention. She meets Richard Harris (awkwardly dubbed in Italian), an engineer passing through on business. Maybe he can provide her with some solace. Maybe not.

The film's central message arrives when Harris ruefully notes that the world prioritizes humanity below progress, but above justice. Hmm.

This was director Michelangelo Antonioni's first work in color, and the frame is dominated by muddy reds, grays, beiges and browns. There is no "desert" -- only a sense of desolation. Meanwhile, the sparse, electronic soundtrack is highly unusual, and vital to the film's chilly atmosphere. Metallic whirrs and drones subtly comment on Giuliana's malaise. No violins this time.

The most entertaining scene is clearly a sequence inside a tiny, deteriorating shack where an unlikely orgy threatens to occur. But instead, the action de-evolves into Harris and others nihilistically tearing wooden planks from the walls to feed the stove. Another notable diversion is a fantasy segment in which Giuliana tells her son an escapist tale about a girl living in happy isolation on some mythic, sunny island.

Antonioni has said "Red Desert" is not intended to be entirely pessimistic and, indeed, a flicker of hope finally comes when Giuliana observes that the birds overhead have learned to simply *avoid* the factory's plumes of yellow, toxic smoke. Adaptation seems to be the answer.

Some will find this film evocative, but others will have little to do but marvel at Vitti's exquisite hair.
Discussion Forum
Discuss Red Desert on our Movie forum!
News & Features