Red Mercury
(2007)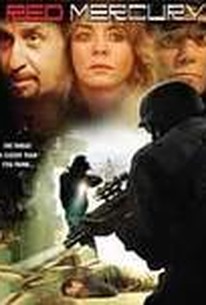 AUDIENCE SCORE
Critic Consensus: No consensus yet.
Movie Info
As three bomb-toting Muslim fundamentalists hold the citizens of a London restaurant hostage, the revelation that one of the terrorists has been researching a little-known Russian explosive known as "Red Mercury" promos authorities to handle the situation with extreme caution in director Roy Battersby's topical thriller. An informer has revealed that a trio of terrorists has been lying in hiding in the English capitol, and when chases breaks out the three bombers storm into a popular Greek restaurant and hold the frightened diners hostage. The perpetrators are Mushtaq (Alex Caan), Asif (Navin Chowdhry), and Shahid (San Shella). As the Gold Commander (Pete Postlethwaite) and counterterrorism expert Sofia Warburton (Juliet Stevenson) do their best to assess the situation from the outside, restaurant owner Penelope (Stockard Channing) and a pair of quick-thinking customers that includes American lawyer Sidney Lowe (Ron Silver) and author Neil Ashton (David Bradley) do their best to keep the heads cool on the inside. Later, when the authorities discover that the three terrorists are well-educated British citizens who were likely recruited by fundamentalists during their studies, Sofia finds that they have also come into possession with an extremely volatile Russian-produced explosive. With time quickly running as tempers begin to flare, the desperate counterterrorism expert contacts her ex-husband Lindsay (Nigel Terry) - a one-time mole whose inside information may prove vital in saving countless lives - in a last ditch attempt to resolve the situation peacefully. ~ Jason Buchanan, Rovi
Rating:
R
Genre:
, ,
Directed By:
In Theaters:
On DVD:
Runtime:
Studio:
MTI Home Video
Critic Reviews for Red Mercury
There are no critic reviews yet for Red Mercury. Keep checking Rotten Tomatoes for updates!
Audience Reviews for Red Mercury
½
A surprisingly high grade cast for such a potboiler. Not terrible but an ordinary hostage drama with Juliet Stevenson standing out with an excellent performance.
½
A muddled mess! Barber Ali, Alex Caan and Navin Chowdhry star as British Muslims that are building a dirty bomb. The police recieve a tip about them, and so the terrorists flee from their apartment. The police are in hot pursuit though, so the three take refuge (and hostages!) in a Greek restaurant. The heart of the film is about how the terrorists interact with their hostages, and how the police are MI-5 work in the background for a peaceful resolution to the situation. Yes, we find out that the terrorists have feelings, too. That they are British born and loved the same TV shows and football teams as many of their hostages. Yes, we find out that some in the police force (the stereotypically macho types) want to use ruthless force on the terrorists, while others want to use finesse. What we [i]don't[/i] find out until the end is a secret that MI-6 has been keeping from both 5 and the police. There are a lot of problems with the film. One is Stockard Channing, who plays the Greek owner of the restaurant; at first you think she's simply mangling a horrible British accent (it's not until about 10 minutes into her scenes that we figure out that she's supposed to be Greek; once you find this out it's slightly more believable). Still, she and Pete Postlethwaite seem thrown into the film just to add [i]gravitas[/i] to a script that can't support it. In my eyes, the people that wrote this film were rejects from [i]Spooks[/i], people that applied to Kudos (the company that makes [i]Spooks[/i] for the BBC) and were rejected. In fact, the film feels like a [i]Spooks[/i] cast-off. And even though the film is about the victims more than the people that save them, that's exactly what this film is - a rejected [i]Spooks [/i]script, written by people that were rejected as writers by the show. It's not awful, but it's not that great, either.
Jim Cofer
Red Mercury Quotes
There are no approved quotes yet for this movie.