Red Ridge
(2007)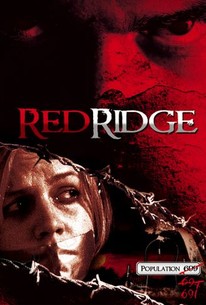 AUDIENCE SCORE
Critic Consensus: No consensus yet.
Red Ridge Videos
Red Ridge Photos
Movie Info
A gruesome thriller based on actual events, director Damien Skinner's Red Ridge tells the tale of a man who comes face to face with true evil while traveling through Texas to meet his estranged wife. Brandon Miller may not have kept his promise to stay sober, but he's determined to keep the promise he made to estranged wife Alicia to meet her at her cabin on the Texas-Mexico border. Upon taking a short cut though the remote town of Red Ridge, however, Brandon quickly becomes caught up in horrifying circumstances beyond his control. Alicia's sister Dawn and her boyfriend were also on their way to the cabin, and had previously attempted to take the same shortcut as Brandon. Unfortunately the traveling couple made the mistake of picking up a pair of sadistic hitchhikers named Lalo and Ness, two men with a serious torture fetish. When Brandon spots Dawn's car in Red Ridge, he suspects that something may be amiss and stops to look for her. Thus begins a terrifying journey into the darkest corners of the human psyche, a place from which few get out alive, and those who do will be forever changed.
Rating:
NR
Genre:
, ,
Directed By:
Written By:
On DVD:
Runtime:
Studio:
Vanguard
Watch it now
Cast
Critic Reviews for Red Ridge
There are no critic reviews yet for Red Ridge. Keep checking Rotten Tomatoes for updates!
Audience Reviews for Red Ridge
Got hold of this oddball somehow, probably at a "previously viewed" DVD sale. It's what I would call a "drive-in" movie, even though they don't really make those anymore. Maybe "direct to disk" is a better category. The good news is that it's somewhat original and held my interest throughout. It involves a good-natured alcoholic who's driving to see his estranged wife who's holed up in a cabin somewhere near the Mexican border. He gets lost near a place called RedRidge. Meanwhile his wife's younger sister is driving down to the cabin with a boyfriend in tow. They get lost somewhere near RedRidge. (It's an easy place to get lost.) A sex trafficking ring happens to lure the young girl off the road with a hand-painted sign "Free Puppies." They're operating out of a nearby whore house, the Casa Azul. Bad news for the boyfriend, and the girl is kidnapped, tied up, tortured, assaulted... things don't look good. But when our strung out protagonist gets a flat tire and ventures into town for a repair, he gets drawn into the mayhem and may in fact prove to be his sis-in-law's salvation. The bad news is that the acting is all amateurish, the production cheap, and as for plotting, it's pretty loose. The motivations of some of the bad guys at Casa Azul are kind of fuzzy. For a gang of bad boys, they're somewhat lackadaisical. Add in a (may be) good sheriff and a definitely bad deputy (a woman!... that's refreshing!), heroic action by a simpleton mechanic who reminded me of Ronnie Howard's creepy brother, lots of shenanigans with handcuffs and duct tape, running in the house, out of the house, cars tearing down dirt roads... it should have been a total mess, but I called it a drive-in movie because it has the following qualites: unpredictable, sloppy, but Fun! I've watched better movies that have delivered less. If you come across "RedRidge" at a garage sale, buy it, and save it for a Friday night when you're slumming! It's a beer and pretzels movie.
Wayne Schenewerk
02/25/10 2006 Any time a movie is based on actual events it makes it interesting to me and the fact that this is of the thriller genre makes it doubly good! Grizzly tale of sex slavery in the US which is sad but true. There are more slaves today than at any time in history. Don't believe it? Check out this flick!
David Durham
Discussion Forum
Discuss Red Ridge on our Movie forum!
News & Features