Red Rock West
(1993)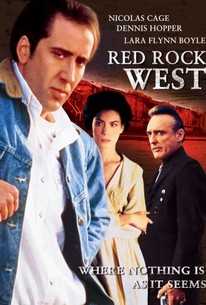 TOMATOMETER
AUDIENCE SCORE
Critic Consensus: Red Rock West is a hidden neo-noir gem with some delightful cracks in its surface -- and an opportunity to see Lara Flynn Boyle, Nicolas Cage, Dennis Hopper, and J.T. Walsh go toe-to-toe in all their early '90s glory.
Movie Info
An offbeat mystery about an average guy who is mistaken for a professional hit-man. Dead tired and flat broke after driving 1,200 miles, Michael, an unemployed Texan, walks into a tavern in tiny Red Rock West, Wyoming, and is immediately offered a job. There's just one problem: the owner thinks Micheal is a hit-man, and the "job" is murdering the owner's wife. Just when Mike decides to take the money and run, the real hit-man arrives, ready to do the job right.
News & Interviews for Red Rock West
Critic Reviews for Red Rock West
Audience Reviews for Red Rock West
Entertaining pastiche of noir and western. Notoriously flawed by lack of verisimilitude. The always menacing presence of Dennis Hopper is a plus. A clear inspiration for Oliver Stone's U-Turn.
Pierluigi Puccini
Super Reviewer
½
Lyle: Don't piss on the seat, even if they did. It's bad luck. A neo-noir set in Wyoming that follows all the standards. Nic Cage is the unlucky hero, in over his head. Lara Flynn Boyle is the femme fatale. J.T. Walsh and Dennis Hopper are the ones up to no good. The film is made well enough and manages to be entertaining for the most part. Cage stars as Michael, a man trying to find a job, but do to a dodgy knee that was injured during his time spent in the military, its quite hard for him. Michael stumbles into a bar only to be mistaken for a hitman by the bartender, played by J.T. Walsh, who hires him to kill his wife, played by Boyle. Michael accepts, only to plan on ditching with the half up front paid money. Things go awry as Michael can't seem to get out of town, only to have even more problems once the real hitman, played by Dennis Hopper, shows up. This film is just fine. It plays with the genre by having it set in the midwest, but really doesn't offer much in the way of surprise. So that leaves the filmmaking and the actors involved. Cage does just fine, Hopper is always interesting to watch, and I do miss the standard type of character that Walsh used to play before he died. Director John Dahl also manages to do a good enough job at throwing in some tension and action our way, which certainly keeps the film's pace moving. A fine thriller. Michael Williams: Adios, Red Rock.
Aaron Neuwirth
Super Reviewer
Mistaken for a hired killer, drifter Nicolas Cage is offered $5,000 to murder a local bar owner's wife, who in turn offers him $10,000 to return the favour. Planning to just keep the money and skip town, he finds leaving Red Rock is a lot harder than he figured. This heavily Tarantino influenced noir-western hybrid has so many twists and turns, double crosses and double bluffs that by the end you're not sure you're coming or going. It's also a little dated as Lara Flynn Boyle must surely be the worst dressed femme fatale in cinema history. On the plus side, it looks good, has a nice soundtrack and is short and efficient enough to not outstay its welcome. Cage is doing his put-upon "this can't be happening to me!" persona rather than the usual bellowed sarcasm so he's quite bearable and J. T. Walsh and Dennis Hopper make a couple of colourful bad guys. Undemanding yet unpretentious, its very silly, but enjoyably so.
Red Rock West Quotes
There are no approved quotes yet for this movie.