Red Scorpion
(1989)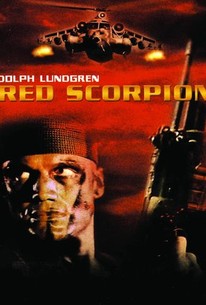 Movie Info
A Soviet infiltrator is stationed in a rebellious African country where he's supposed to kill a disruptive leader.
Critic Reviews for Red Scorpion
Audience Reviews for Red Scorpion
Ivan Drago is part of a joint Soviet/Czech/Cuban mission in Africa to stop an anti-communist rebel group. Ivan worms his way into the rebel group, tries to kill the leader, but fails (like he did in Rocky IV). After being lambasted by his command, he wanders the African wilderness, becoming delirious, then traitorous, suddenly joining with the cast of The Gods Must Be Crazy in order to fight the pinkos he once loved. M. Emmet Walsh adds a few curses.
D M
½
As Dolph Lundgren's last film to play a Russian character, it comes off as a better rip-off of Commando (1985) but doesn't take the story in any direction that hasn't been explored. Just average on the whole. For my full review of Red Scorpion (1988), check it out on this IMDB link: http://www.imdb.com/title/tt0098180/reviews-57
Nick Salvemini
Oh my god, you guys, this movie is great. Okay, maybe the movie itself isn't super-fantastic, but it turns out that watching a schlocky film in the middle of the night and getting to wolfwhistle at the screen like a construction worker is my idea of a good time. We watched a print that was in such bad shape that it actually caught in the projector - it was the first time I had ever seen a real film burn. I feel like I passed some sort of milestone. I'm not usually a fan of action movies, and this one is largely indistinguishable from most of the others that came out in the 80s. An enormous scary dude goes into a bad situation and solves problems by wrecking stuff, kicking peoples' asses and generally blowing shit up. I really liked this one because Lundgren was so damn pretty back in his heyday. Like catnip. Like Kryptonite. He's a good six inches taller than any other actor in this film, and he's got at least two feet of circumference on them as well. I'd like to make a calendar out of screenshots of this movie. There was a little spattering of humor thorughout it, and the action scenes were well-choreographed and rendered. Pure delicious popcorn cinema at its finest. And totally improved by the screweing-up projector, the missing scene and the myriad imperfections in the print.
Emily Armstrong
Super Reviewer
Discussion Forum
Discuss Red Scorpion on our Movie forum!