Red Scorpion
(1989)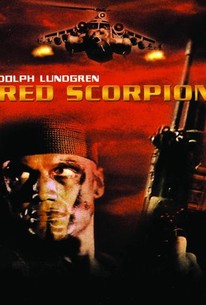 Movie Info
A Soviet infiltrator is stationed in a rebellious African country where he's supposed to kill a disruptive leader.
Critic Reviews for Red Scorpion
Audience Reviews for Red Scorpion
Oh my god, you guys, this movie is great. Okay, maybe the movie itself isn't super-fantastic, but it turns out that watching a schlocky film in the middle of the night and getting to wolfwhistle at the screen like a construction worker is my idea of a good time. We watched a print that was in such bad shape that it actually caught in the projector - it was the first time I had ever seen a real film burn. I feel like I passed some sort of milestone. I'm not usually a fan of action movies, and this one is largely indistinguishable from most of the others that came out in the 80s. An enormous scary dude goes into a bad situation and solves problems by wrecking stuff, kicking peoples' asses and generally blowing shit up. I really liked this one because Lundgren was so damn pretty back in his heyday. Like catnip. Like Kryptonite. He's a good six inches taller than any other actor in this film, and he's got at least two feet of circumference on them as well. I'd like to make a calendar out of screenshots of this movie. There was a little spattering of humor thorughout it, and the action scenes were well-choreographed and rendered. Pure delicious popcorn cinema at its finest. And totally improved by the screweing-up projector, the missing scene and the myriad imperfections in the print.
Emily Armstrong
Super Reviewer
I saw this when I was small...It was cool at the time : )
EightThirty .
Super Reviewer