Red Siren
(2004)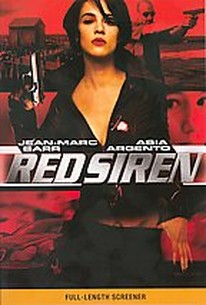 AUDIENCE SCORE
Critic Consensus: No consensus yet.
Movie Info
Rating:
R (strong violence and language)
Genre:
Directed By:
On DVD:
Runtime:
Critic Reviews for Red Siren
There are no critic reviews yet for Red Siren. Keep checking Rotten Tomatoes for updates!
Audience Reviews for Red Siren
*** (out o four) I was a bit surprised with this film because I wasn't expecting too much, but was pleasantly taken back by it. For such a small budget it looks and feels much more professional than many Hollywood blockbusters. Jean-Marc Barr plays a ruthless who takes a twelve year old girl with him reluctantly through Europe on his job. The girl is running scared from her evil mother who wants to kill her.
Steve Smith
La Sirène rouge (Red Siren) directed by Oliver Megaton written by Alain Berliner, Robert Conrath, Oliver Megaton, Norman Spinrad based on the novel by Maurice G. Dantec starring Asia Argento, Alexandra Negrão, Frances Barber, Jean-Marc Barr, Andrew Tiernan, Edouard Montoute, Johan Leysen A young girl in search of her father stumbles into a Paris police station with what appears to be evidence that her mother is a heinous killer. The police don't believe her so the wee lass escapes and hides in the backseat of a car driven by a hit man and gang member who agrees to take her to Portugal to look for her dad. Alice (Negrão) is nearly 13 and she's subsequently awkward and shy. She is on the run because she loathes her Mother Ava (Barber) and everything she stands for. It is revealed that Ava is the head of a notorious criminal syndicate who sends out her goons to capture Alice and bring her back whatever the cost of life. Everything goes down in a small coastal town in Portugal where the efficacy of blood ties is ultimately challenged. The film opens with a character named Hugo (Barr) who is holding up in what looks to be an underground warehouse space of sorts. He has his assault rifle ready to shoot whomever gets in the way of the bullets. He stands alert and ready but is startled by someone coming up behind him. He turns around and fires thinking he is killing a soldier only to discover that he has shot a ten year old boy. Years later he is pulling away from what may be a hit when Alice sneaks into his car and he is forced to deal with her presence and decide whether or not he wants to help her out. Asia Argento plays an Italian detective named Anita who is put on the case and becomes far too involved in sorting out the details of the girl's sad plight. The film focuses mostly on the chase of Alice who is determined to meet up with her father, Travis, (Leysen) who everyone assumes is dead after a boat accident three years ago. Ava is portrayed by Barber as a woman who genuinely wants her daughter if only to groom her to take over the family business–murder, extortion, drug and human trafficking, and other nice, wholesome activities that any mother would be proud of instilling in her daughter. She is certainly cold and fleshed out in the grand tradition of the femme fatale but there is something pathetic and desperate about her personality that makes her at least partially sympathetic. We never get a firm grasp on precisely what activities Ava is involved in only that she has the ability to hire hit men to do her dirty work and suss out the recovery of her daughter. Barber is certainly geared up for her character's unwholesome presentation. Ava is dire, deranged, and most certainly off kilter for much of the film. Barber plays up her demonic side through gesture and posture mostly. She captures the characters rottenness coupled with her longing to have Alice with her so she can extend her legacy. Ava is getting old and thinking about the end. She wants to be able to pass on her skills to someone she imagines she can trust. Barber gives off an icy quality that is delivered bluntly and without pretense. Ava doesn't come across as a woman too terribly gifted in the art of motherhood. She is conniving, cruel and seemingly ruthless in getting what she wants out of other people. It's never quite clear at first if she is capable of murder but by the end all doubts are decimated as she reveals herself at last. The mother-daughter dynamic in this film is never fully developed. It isn't clear if they have any type of normal interaction or if Ava is a warm and caring mother when she's not trying to turn her daughter into a black widow. Alice is simply portrayed as a poor girl who longs the safety and calm that she remembers from living with her father. She is not complicated and its easy to forget her amidst all the gunfire that surrounds her when she and Hugo are holed up in a motel along with Anita and her partner who are both looking for Alice. A gun battle ensues and many of the goons are put away for good as Hugo fights his way out of his predicament. Alice escapes again and heads to where she knows her father is living and there is naturally a somewhat touching reunion scene between father and daughter. Of course the situation turns and more killings erupt leaving everybody dead who should be dead and the heroes of the story shaken but not defeated. This is a standard thriller with no particularly novel or significant elements to elevate it above the mediocre. The story is scripted in a rudimentary fashion and events transpire predictably and nothing much of note takes place. It doesn't matter in the end what happens with the girl because the audience is not allowed to gain much insight into the nature of the character. She's simply a tormented pre-teen who is torn between her filial obligations to each parent. The film has a familiar look to it as it is quite murky for much of first hour. It's grim and typical of these type of films and subsequently it doesn't possess a distinct style to set it apart. The story doesn't allow the film to work beyond its limitations and the acting is consistently wooden and lacking in nuance or an obligation to express emotional truths garnered from the hell that is put on screen. Even Asia Argento seems to lack the natural style that she's used to inform some of her other roles. Overall, this film has no direction. It ends up in a specific place but one doesn't particularly notice or care. There are scenes of beauty and longing mostly due to the coast line and the great view afforded by various locations. There is an elegance to a few scenes but they are trumped by the ugliness that is brought forth by the methods that are employed to film the action sequences who again aren't exactly special in their execution. Granted the fighting is raw and there is a natural quality to much of it but it isn't anything that hasn't been done in hundreds of films at this point. Several of the characters aren't provided with much of a storyline to work with. They are merely periphery and add nothing to the core story being presented. Anita gets caught up in Alice's life but she doesn't have anything to do with facilitating the child's ultimate release which if one has seen any thriller in the past eighty years knows is going to be actualized. The response to this film that makes the most sense is in the end it doesn't carry any weight. There is one scene that cements the mother-daughter relationship which is handled effectively. It brings a close to a chapter that is poorly written but it does manage to create a type of closure that is above the mark that most of these films shoot for. Still, the story as a whole lacks imagination, style and meaning. There just aren't enough scenes worth remembering in the end.
Everett Jensen
[center]Yeah, I need to start viewing more good films. Sorry, Yum-Yum. [img]http://img240.imageshack.us/img240/9389/zooey5aa.jpg[/img] [left][u]DVD purchases:[/u] [i]American Psycho (Uncut Killer Collector's Edition) In the Mood for Love (Criterion) [/i][b]Friday[/b] - Seeing [url="http://www.teganandsara.com"]Tegan & Sara[/url] in concert! [/left] [/center]
First Last
Red Siren Quotes
There are no approved quotes yet for this movie.
Discussion Forum
Discuss Red Siren on our Movie forum!