The Red Tent
(1971)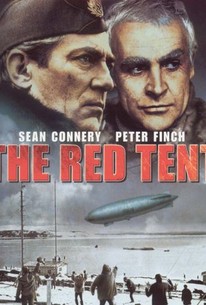 Movie Info
The true story of a tragic 1928 arctic expedition provides the basis for this adventure drama that was a joint Italian and Russian co-production. Peter Finch stars as General Umberto Nobile, who is visited in Rome by the ghosts of those whose lives were taken in his ill-fated mission forty years earlier. In flashback, Nobile recalls the attempt to cross the North Pole by flying dirigible, the Italia . When the airship crashes, Nobile and his crew are scattered across the ice, left to struggle against the freezing cold elements and local polar bears, among other hazards. In an effort to save the expedition, the great explorer Roald Amundsen (Sean Connery), the first man to reach the South Pole, is dispatched to rescue Nobile. When Amundsen disappears (never to be heard from again), an icebreaker is launched to bring national hero Nobile home, but at the expense of his crewmates. Although The Red Tent (1971) was considered a costly box office failure, the film did win a Golden Globe for Best English Language Foreign Film.
News & Interviews for The Red Tent
Critic Reviews for The Red Tent
Audience Reviews for The Red Tent
Mikhail Kalatozov's final film is a little-known anti-epic masterpiece. Heroic folly coupled with heroic fortitude, the film has awe-inspiring polar photography and an intense Ennio Morricone score.
Lee Mayo
½
A nice examination on the nature of leadership and heroism. The expository approach of the trial could have been better handled in the confines of the story and there could have been a clearer delineation between the questions of military leadership and glory hunting. Over all a good approach and a beautifully shot film.
drew kabbe
The story, the setting, the attention to detail are all top-notch. Unfortunately, as others have said, the movie is awkwardly paced and clunky. Towards the end is one terrifically powerful scene between Connery (who, despite being top-billed, is barely in a quarter of the film) and Finch where they debate the responsibility of leadership. If only the movie leading up to it wouldn't lose the majority of it's audience's attention so long before.
Ben Ritchie
The Red Tent Quotes
There are no approved quotes yet for this movie.
Discussion Forum
Discuss The Red Tent on our Movie forum!