Red Trousers: The Life of the Hong Kong Stuntmen
(2003)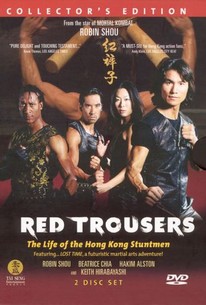 Red Trousers: The Life of the Hong Kong Stuntmen Videos
Red Trousers: The Life of the Hong Kong Stuntmen Photos
Movie Info
This documentary from Robin Shou -- who also hosts and participates in the film -- takes a behind-the-scenes glance inside the stunt industry of Hong Kong, which is known for being riskier and less trick-oriented than its American counterpart. In addition to archival and interview footage featuring some of the industry's most prominent stuntmen, Red Trousers: The Life of Hong Kong Stuntmen incorporates scenes from Lost Time (2001) in an effort to illustrate how stuntmen prepare for and ultimately perform in modern martial arts films. The cast includes Beatrice Chia, Hakim Alston, Sammo Hung, Lau Kar-Leung, Mindy Dhanjal, Jack Wong, Wang Hua, and Ridley Tsui.
Rating:
R
Genre:
, , ,
Directed By:
Written By:
In Theaters:
On DVD:
Runtime:
Studio:
Critic Reviews for Red Trousers: The Life of the Hong Kong Stuntmen
Audience Reviews for Red Trousers: The Life of the Hong Kong Stuntmen
"The Life of the Hong Kong Stuntmen" - this interesting documentary looks at the people behind the scenes responsible for making Hong Kong films what they are today. Some interesting insights which you may already know if you've seen any of the Jackie Chan documentaries but informative nonetheless. This film mixes documentary with a cheesy action film at the same time, showing how they're filming a stunt and then the actual movie itself. I enjoyed the interviews with the actual stuntmen showing their challenges in life, as well as former stuntmen such as the great Sammo Hung himself. Recommended viewing for anyone really interested in the Hong Kong film industry but not for everyone by a long shot.
Zachary Long
Cold Mountain - It's a well made film with good acting and cinematography. It's not my type of movie, but since it was nominated for a bunch of Academy Awards and did nearly $100M at the box office, I wanted to see it. It's a love story set during the Civil War. Jude Law plays a Confederate deserter who must travel through a long distance to return to his love (played by Nicole Kidman) while being persued by Confederate soldiers. Because he's Jude Law, he has to push away advances from various hotties (including Natalie Portman) during his journey. What's interesting and great is the way the love story is told so convincingly despite Jude Law's character being is a man of few words. Renee Zellweger's character also brought some fun to the straight-forward love story. Red Trousers - Robin Shou's documentary about Hong Kong stuntmen is kinda interesting - although a lot of the stuff seem like something I've already seen or heard from other documentaries on Hong Kong films. The film within the documentary is also really, really bad; the fight choreography is not bad tho. I'm glad it's only used to illustrate the stunts. Still, it kinda feels like the documentary is an after-thought - as if he realized how incredibly bad his film was during shooting so he just kept the behind the scene stuff, added some interviews with a couple high profile stuntmen (Sammo, the Leung family), and turned it into a documentary. Jackie Chan: My Stunts - Since I reviewed Red Trousers, I might as well review this documentary on the stuntwork on Jackie's films as a comparison. I saw this several years ago. It's simply the best documentary ever made about Hong Kong stuntwork and fight choreography. It's as if you have Jackie Chan, the man responsible for changing the way Hong Kong action films were made, unveiling the magic behind his films. Oh wait, that is Jackie Chan! He not only shows you how some of the stunts in his films were done, but he also shows you how it was edited and where the camera was placed. With Jackie, you get it from different perspectives - as stuntman, director, and editor. As far as documentaries go, this is one of the greats. It's too bad Documentaries weren't that popular then, because this would have scored really well with critics - even though the appeal may not be too wide.
Senh Duong
took some pictures from the Red Trousers demo at the Arclight friday night i have. enjoy... [img]http://userimages.rottentomatoes.com/profiles/39147/701405cc11ba3a67.jpg[/img] hmmm...boy LA sure has a pretty skyline ..... SHIT...maybe i should be concentrating on driving....... [img]http://userimages.rottentomatoes.com/profiles/39147/900405cc1a3aed02.jpg[/img] hey, let's all play with our electronics...but none for you kid! [img]http://userimages.rottentomatoes.com/profiles/39147/504405cc07e9a04a.jpg[/img] SURPRISE!!!!!! ....(hahaha....yes, i'm evil :-P)
Peter Wong
Red Trousers: The Life of the Hong Kong Stuntmen Quotes
There are no approved quotes yet for this movie.
Discussion Forum
Discuss Red Trousers: The Life of the Hong Kong Stuntmen on our Movie forum!