Red-Headed Stranger
(1987)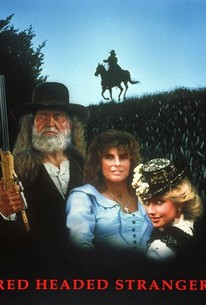 AUDIENCE SCORE
Critic Consensus: No consensus yet.
Red-Headed Stranger Videos
Red-Headed Stranger Photos
Movie Info
A bible-totin' preacher from out East arrives in wild Montana to spread the Good Word to all. When his wife takes off with another man, he straps on the pistol and extracts his vengeance. Then he must struggle to find his way back to the hallowed life. Willie Nelson plays the preacher and Morgan Fairchild is his inconstant wife.
Rating:
R (adult situations/language, violence)
Genre:
, ,
Directed By:
Written By:
In Theaters:
Runtime:
Studio:
Nelson Entertainment
Critic Reviews for Red-Headed Stranger
There are no critic reviews yet for Red-Headed Stranger. Keep checking Rotten Tomatoes for updates!
Audience Reviews for Red-Headed Stranger
It starts off like a potentially cool film with a tough preacher out to save a town. Then it suddenly veers off into WTF-ville when he just rides off and kills his wife and some guy? I don't care if she did leave him, why would he just shoot her in cold blood like that? Was he mentally unstable? Even if it was the heat of the moment, any normal human being would have calmed down and come to his senses in the time it took to find her. And this guy was a man of God?? Did he have a history of psychotic behavior? And they never give a logical reason for his actions. When he is later asked by some horny single mom -- who apparently can't find an eligible guy in the huge town nearby -- why he killed his wife, he mumbles something like "It seemed like a good idea at the time." SERIOUSLY?? And then the mom just shrugs and lets it slide! Was she so freaking desperate for a guy she'd let ANY random murderer shack up with her (and her young son!), even a beedy-eyed, scraggly-looking buzzard like Nelson? Then the sheriff comes looking for him and shoots him down. But NOT because he murdered his wife (as well as several other people, including a defenseless young girl outside a bar). He did it because he rode off and left the town to fend for themselves against the bad guys!! SERIOUSLY?? Finally, the Sheriff and WIllie become best buddies again and kill the bad guys. And in the end WIllie goes back to the horny, desperate mom and the film ends. Apparently this idiotic, pointless film expects us to be happy he finally found a peaceful life, yet all I keep thinking is [b]HE FREAKING SHOT HIS WIFE IN COLD BLOOD!![/b] The guy did more vile, horrifying things in this film than the crabby old man and his inbred sons! The retarded guy had more reason to shoot the man trying to shoot his "pa" than Nelson had to shoot his wife. Nelson deserved to hang until he was DEAD!! BTW, I gave it a 10% just for the scene with Morgan Fairchild's nips through her wet blouse.
Jack KIng
½
"You gotta GODDAMN those people, Odie! You gotta GODDAMN them!!" -Pa Claver to his boy Odie, who was fixing to get hanged... If this movie wasn't "made-for-tv", it really should have been, because I can't imagine someone going into a theater and paying to watch this. Morgan Fairchild is just about the worst actress ever, but compared to Pa, and Odie and Odie's girlfriend, she's academy award-worthy. Willie Nelson is the Red-headed stranger, a preacher who comes to town with his wife (Fairchild) to help spread the gospel. The town though, is not a great place to live. It seems the Claver family controls the town's water supply, and they charge everyone money to use any water (where anyone in this town even gets money from, i have no idea). The preacher digs out the old town well, discovers there's still water down there, and commences to build a windmill on top of it to syphon out the water. But his wife so hates the town that she runs off with an ex-boyfriend. It is here, an hour into the movie, that it takes a bizarre turn and the filmmakers attempt to throw in every western cliche they can think of. At times, this movie seems to be shot on some highschool stage, the sets are that bad. The acting, as I've said before, is atrocious, and the story is all over the place. Katharine Ross, who was Elaine in "The Graduate", has nothing to do in this movie. It's a mishmash that is at times very unintentionally hilarious. "Is that your chink in the field?"
Devon Bott
Where to begin, one of the most eye spreading Westerns ever to grace the film of a hollywood camera, WIllie NElson enbodies the west as a preacher who turns reckoner! WATCH IT!
Jack DA Ripper
Red-Headed Stranger Quotes
There are no approved quotes yet for this movie.