Reefer Madness
(2005)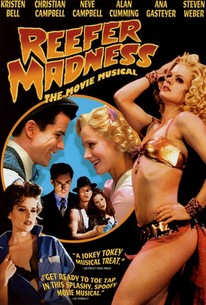 Movie Info
Based on the stage play, this musical parody of 1936 film 'Reefer Madness' takes that already overblown criticism of marijuana usage in the source film and ups the ante to humorous effect.
News & Interviews for Reefer Madness
Critic Reviews for Reefer Madness
All Critics (6) | Fresh (4) | Rotten (2) | DVD (4)
Threads the impossible needle of being deliberately bad in a way that's appealing and funny instead of just shrill.
Maybe a few bong hits would make this thing funnier.
Audience Reviews for Reefer Madness
Its ludicrous in the best possible way. Great songs and great comedic performances.
Alec Barniskis
Super Reviewer
This movie was fun and campy. Loved the songs and the acting was good too.
Lovable Misanthrope
Super Reviewer
[font=Century Gothic][color=blue]The latest version of "Reefer Madness" is a musical that is a remake/parody of the original 1930's anti-drug movie(which I've never seen even though I've seen clips from time to time. There must have been a clip in the 2000 documentary "Grass", even though I cannot remember for sure.). A mysterious stranger(Alan Cumming, in this role and many others) comes to lecture the kind parents one night in 1936 about the evils of the drug, marijuana.(Which here seems to be a combination of angel dust, crack and steroids.) He shows them an anachronistic film that starts out with a sweet innocent high school couple, James Harper(Christian Campbell) and Mary Lane(Kristen Bell). But there is evil lurking in the corners willing to seduce them to the dark side...[/color][/font] [font=Century Gothic][color=#0000ff][/color][/font] [font=Century Gothic][color=#0000ff]Surprisingly, "Reefer Madness" turned out to be a very enjoyable movie musical with catchy tunes and great dance routines. It is a rather enjoyable romp. [/color][/font] [font=Century Gothic][color=#0000ff][/color][/font] [font=Century Gothic][color=#0000ff]There is also a political edge to this movie in that it criticizes the fearmongering that goes along with the film within a film. It reminded me of the hapless drive to teach abstinence only sex education in high schools.[/color][/font]
Reefer Madness Quotes
| | |
| --- | --- |
| Miss Poppy: | Lives up to the histeria and racism envoked by the 30's propaganda piece. |
Discussion Forum
Discuss Reefer Madness on our Movie forum!