Reel Evil
(2012)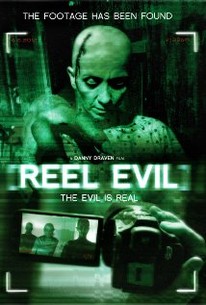 AUDIENCE SCORE
Critic Consensus: No consensus yet.
Movie Info
Struggling filmmakers - Kennedy, Cory and James - finally catch the break they were looking for when they are hired to shoot a 'behind-the-scenes' documentary for a major studio production. But their dream job quickly turns into a nightmare when they explore the legendary, haunted location and find something far worse than anything Hollywood could create. Terror becomes reality for the filmmakers as they uncover the malevolent secrets of the hospital, and the sinister doctor who once ran it. Trapped inside the hospital with no apparent way out, our crew is tormented by the evil, unspeakable fear.
Rating:
NR
Genre:
,
Directed By:
Written By:
In Theaters:
On DVD:
Runtime:
Studio:
Full Moon Entertainment
Critic Reviews for Reel Evil
All Critics (1) | Fresh (0) | Rotten (1)
It's a shame there's almost ninety minutes and nothing to show for it except a great special effects reel.

Audience Reviews for Reel Evil
Reel Evil is a found-footage paranormal flick directed by Danny Draven and starring Jessica Morris, Jeffrey Adler, Kaiwi Lyman-Mersereau, Jim Tavare, Galen Howard, Lino Dumont and Spencer John Olson. The movie follows struggling film makers Kennedy, Cory and James who are hired to shoot a 'behind-the-scenes' documentary for a major studio production. The story has the young crew spending down time on the shoot exploring an old hospital facility that seems to be rife with entities. It is a classic case of haunting of malevolence. This film comes from Full Moon, a studio that whether you love them or hate them has a pretty tight systematic approach to horror that has lasted for decades. The story for Reel Evil is pretty cut and dry. A standard tale of haunting where the spirits are far from friendly. The film uses all the expected tricks of found-footage that has come to define the sub-genre so there is nothing new within that aspect of the movie. The effects are a blend of traditional organic effects combined with the more modern CGI produced material. In this film the director took care not to over use the computer generated effects so that what is used is tolerable. When it came to the gorier organic effects there was just as much care taken and it provides expected realism to those necessary moments. The story is a good story which is entertaining and convincing. It doesn't seem contrived or forced upon us. The actors are pretty tight in their performances and give a believable performance as well which makes the movie watchable. Reel Evil could have been one of those opportunities for the studio to shine but unfortunately as a horror story the movie fails. The director seems to have forgot the main ingredient-the thrills. There are absolutely no moments in this film that are scary or suspenseful at all. It is a pretty standard ghost story that tells a great tale but beyond the standard cookie cutter pattern of story telling there is nothing that stands out about Reel Evil. Watch knowing it will be a cool ghost story from a staple studio in the horror genre but don't expect to be scared or have those intense moments of suspense because they are just not in this movie.
rick russ
½
Interesting premise, nice effects, good enough acting, and then... terrible execution, stupid dialogue, MUSIC (no no no no, not necessary in a found footage), far too much sex appeal, no scariness, little to no suspense, and unintentionally funny. Blegh. Skip it.
Brandon Moore
Reel Evil Quotes
There are no approved quotes yet for this movie.