Jianyu (Reign of Assassins)
(2010)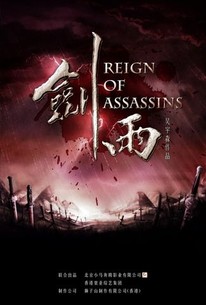 Jianyu (Reign of Assassins) Photos
Movie Info
Elusive assassin Drizzle transforms herself into modest shop owner Zeng Jing (Michelle Yeoh) in order to transport the remains of an exalted Buddhist monk to their eternal resting place, but finds her mission unexpectedly complicated when she falls in love with Jiang, a fierce warrior posing as a typical messenger. According to legend, the monk's remains possess untold powers. In order to ensure that they do not fall into the possession of the Dark Stone gang, the former killer goes into deep hiding. Adopting the name Zeng Jing, she marries Ah-Sheng (Woo-sung Jung) and together the couple plans to live out their days in peace. But when he Dark Stone gang turns up in search of the missing remains, the truth about Zeng's past begins to emerge. Before long, Zeng realizes that her husband Ah-Sheng also harbors some dark secrets - secrets that only begin to emerge once the battle lines are drawn and the swords start to clash. Longtime producing partners John Woo and Terence Chang reteam for this period martial arts film set in A.D. 428, and co-directed by Woo and Su Chao-pin. ~ Jason Buchanan, Rovi
Critic Reviews for Jianyu (Reign of Assassins)
Audience Reviews for Jianyu (Reign of Assassins)
½
[img]http://images.rottentomatoes.com/images/user/icons/icon14.gif[/img]
Directors Cat
Super Reviewer
½
Dazzling martial-arts epic. Mr. & Mrs. Smith meets Face/Off in this Chinese swordplay epic where killers yearn for lives of quiet domesticity. It's got a very classic feel, applying wirework sparingly and focusing on the intertwined dialogue and motives of a large cast within the jiang hu milieu. The fights are intricate, concentrating on exotic weapons and styles, but mixing it up with some proxy fighting and concealed technique. The cinematography is largely excellent. There is beauty in many scenes and they capture the emotion of the characters and their circumstances very well. Michelle Yeoh's role in this film is a welcome return to form for the actress that has not had such a meaty role tailor-made for her since Ang Lee's Crouching Tiger, Hidden Dragon. Her natural beauty and elegance complements Zeng Jing's graceful assassin perfectly and serves as a good foil against co-star Jung Woo-sung's rugged handsomeness. Yeoh and Jung also share great chemistry, and it is firmly to their credit that the film ends on a deeply poignant note.
Dean McKenna
Super Reviewer
½
The tandem of Chao-bin Su and John Woo pays off, as Reign of Assassins turns out to be a superb martial arts period piece.
While starting with a pretty energetic rate to setup what is to become the meat of the story, things soon settle down for a well-paced film. The characters are amusing despite some under utilization for a few of them, and even some major under utilization for a couple others. The story itself also has its twists and it is no surprise that it entertains from beginning to end.
The martial arts sequences come in spurts and they are definite high points of this picture. The sword play choreography is superb and the camera work during these scenes is also worth noting.
Michelle Yeoh has it all. She acts when she has to and fights otherwise. Both are done well. Woo-sung Jung has got a little pep in his step, while Barbie Hsu has a treacherous character to remember. On the downside, the lovely Kelly Lin, Pace Wu, and Jiang Yiyan suffer from lack of screen time.
Reign of Assassins excels all around and is a film out of China to check out.
Jianyu (Reign of Assassins) Quotes
There are no approved quotes yet for this movie.