The Reivers
(1969)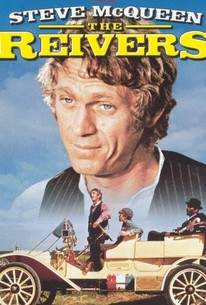 AUDIENCE SCORE
Critic Consensus: No consensus yet.
Movie Info
Growing up in Mississippi in the early 1900s, young Mitch Vogel finds himself tooling around the country in a vintage automobile with ne'er-do-well farm hand Steve McQueen and distant black relative Rupert Crosse. The three have a series of adventures, including training a broken-down racehorse.
Rating:
PG
Genre:
, , ,
Directed By:
Written By:
In Theaters:
On DVD:
Runtime:
Studio:
Viacom
Critic Reviews for The Reivers
All Critics (4) | Top Critics (1) | Fresh (4) | Rotten (0) | DVD (2)
A well acted adaptation of William Faulkner's last novel, offering good roles for Steve McQueen and Rupert Cross, only the second black to receive an oscar nomination by 1969.


Ozus' World Movie Reviews
Audience Reviews for The Reivers
½
The Reivers is a nice bawdy film, sort of Walt Disney with an adult rating. Imagine a charming nostalgia-soaked family-type film about a winsome 11-year-old in turn-of-the-century Mississippi who gets himself cut up in a Memphis bordello defending the good name of a lovely professional lady.
Lee Mayo
ok period piece told like 'to kill a mockingbird' from a child's point of view though steve mcqueen is top billed.
Greg Wood
½
While I admit this film seemed a real loser to me in the first HOUR AND A HALF, it came to being good in the last 15 minutes. The Reivers, published in 1962, is the last novel by the American author William Faulkner. [img]http://t3.gstatic.com/images?q=tbn:ANd9GcSxzuaaFyrg-OXTBx9e3o0BlEWUy3nJf5Yd92IHX9lS0qv4y4OiPA[/img] The bestselling novel was awarded the Pulitzer Prize for Fiction. [img]http://upload.wikimedia.org/wikipedia/en/thumb/b/b1/Reiversposter.jpg/220px-Reiversposter.jpg[/img] The director didn't make a lot of films, but notably he made The Cowboys (John Wayne), On Golden Pond, among others. William Faulkner, as great as a novelist as he was, was not well reperesenting here (to me, anyway). Here is my take on this. If you can forget all the silliness in this film, it really is about coming of age, but being coaxed into it is a whole other matter. [img]http://t2.gstatic.com/images?q=tbn:ANd9GcShdY0usdnRUEVV1sFq5dh3VUfQIMY8MAXAgue8FrETdi8FuNXS[/img] Set in the 1900s, the film follows the exploits of the likable but crude Boon Hoggenbeck (Steve McQueen), who takes an interest in a new car, a yellow Winton Flyer [img]http://t3.gstatic.com/images?q=tbn:ANd9GcTGr1xFNLQVPRsboht4tB9U5a2_SZTg_O3SRmLN7MHY-h7MCuHV[/img] that is the property of a man named Boss (Will Geer), the patriarch of the McCaslin family, who live in the Mississippi area where Boon lives. McQueen [img]http://t3.gstatic.com/images?q=tbn:ANd9GcTmq_MzkhKpR4vLiOPTLaHbWaiNvBUxeW5HxDgUKPJ9MgGIsmNnsw[/img] forces a young lad (eleven years old) into going with him to Memphis, 80 miles away. His folks have left for a train trip far away and will not be back for 4 days. [img]http://t2.gstatic.com/images?q=tbn:ANd9GcSslArK_X_qvrJp6BAi5N9o1RDu_Bmq2ayLSBWm8pFJnighZPtp[/img] McQueen wants to educated the boy in manlihood, or so he would call it. Taking him to a cathouse (whore house) in Memphis is supposed to broaden his innocent being. Instead, it makes him sad and becomes a tale of lost innocence. [img]http://t1.gstatic.com/images?q=tbn:ANd9GcQRk2vDrIUC5aTYXegAFZhSH17tIrcfa1H1UIxVsKM5OmFyGbD8RAOGLIg[/img] Centerered around a garrish yellow new automobile, McQueen is bent on teaching young friend the facts of life. He teaches him how to drive, for instance. He then takes him to nearby Memphis to go to a whore house. I almost left this movie a half dozen times while watching it. It seemed rather stupid in places. [img]http://t2.gstatic.com/images?q=tbn:ANd9GcQpSxdHb-zhqzOOJBc-b2Wrn4Cab9jIV70QXgk-RoKUKhZ4DU9RAA[/img] But, wait. At the last 15 minutes it all comes together. The scene with his grandfather in the basement is most touching. The ending is comical, as the grandfather (owner of the yellow automobile) has removed the wheels to preven their ever leaving town again! [img]http://t3.gstatic.com/images?q=tbn:ANd9GcQ0sUTkwUk3bZHfuEpXCIuYe3Nk7sI06KUsyYmmiwcSBBdsDNR6_A[/img] NOTES: 1 The movie was released on Christmas day, 1969. Has no seasonal attributes however. 2 Awards 1970 Oscar Nominations: Actor in a Supporting Role - Rupert Crosse ("Ned McCaslin") Music (Original Score - for a motion picture [not a musical]) - John Williams 3 SHARON FARRELL, after working in Hollywood for over ten years, she got a chance for the love interest in THE REIVERS, a coming-of-age story based on a novel by William Faulker and starring the biggest movie star at that time, Steve McQueen, with whom she's the romantic interest... [img]http://t3.gstatic.com/images?q=tbn:ANd9GcTEcT4T_Zxss1LChzfcbrsdCCcP4-KJUuB0UQnjVnWYvtyZdzML[/img] Films directed by Mark Rydell 1960s... The Fox (1967) · The Reivers (1969) 1970s... The Cowboys (1972) · Cinderella Liberty (1973) · Harry and Walter Go to New York (1976) · The Rose (1979) 1980s... On Golden Pond (1981) · The River (1984) 1990s... For the Boys (1991) · Intersection (1994) 2000s... James Dean (2001) · Even Money (2006) [img]http://t3.gstatic.com/images?q=tbn:ANd9GcT-zxCwHarDBICmrsooySf-Q8pxm5SHQ2_lFieIw5qfRUt6NsniucttGXTtYA[/img] Cast Steve McQueen as Boon Hogganbeck [img]http://t3.gstatic.com/images?q=tbn:ANd9GcTep8qi6aiyNUXlC8xzL_V1VK1FX2MVv8314XbaTyqT4lFCXNhv[/img] Sharon Farrell as Corrie [img]http://t2.gstatic.com/images?q=tbn:ANd9GcTguEP1QEcM2eisxyxX2fr8Sfl-l9CJ_pNuVjym8pVGIRkkDaHFKA[/img] Mitch Vogel as Lucius Rupert Crosse as Ned Burgess Meredith as Narrator Ruth White as Miss Reba Michael Constantine as Mr. Binford Clifton James as Butch Lovemaiden Juano Hernandez as Uncle Possum Lonny Chapman as Maury Will Geer as Boss (Lucius' grandfather) Diane Shalet as Hannah Pat Randall as May Ellen Diane Ladd as Phoebe Ellen Geer as Sally Dub Taylor as Dr. Peabody [img]http://t1.gstatic.com/images?q=tbn:ANd9GcRclSQoHTvV8c9iU9DiJgls2ZzxQo58nBsau3LI08YIdZd25V45[/img] Directed by Mark Rydell Produced by Irving Ratvetch Written by William Faulkner (novel) Harriet Frank Jr. Irving Ravetch Narrated by Burgess Meredith Starring Steve McQueen Sharon Farrell Mitch Vogel Burgess Meredith Will Geer Music by John Williams Cinematography Richard Moore Editing by Thomas Stanford Studio Cinema Center Films Distributed by National General Pictures Release date(s) December 25, 1969 (1969-12-25) Running time 107 minutes Country United States Language English Memorable, but a bit insufferable too. [img]http://t2.gstatic.com/images?q=tbn:ANd9GcQtDiYo46-6axIm3clVtODJ5FAENMzj87_HvKZu9IPNn8jh3xDVrdo2V5mAyw[/img] [img]http://t0.gstatic.com/images?q=tbn:ANd9GcTNUZN8zMyFr1a4SaQOmJaVcfulmOptV0aINmaj3Pe1U0KvrBr6[/img]
monsieur rick
The Reivers Quotes
There are no approved quotes yet for this movie.
Discussion Forum
Discuss The Reivers on our Movie forum!