Rejoice & Shout
(2011)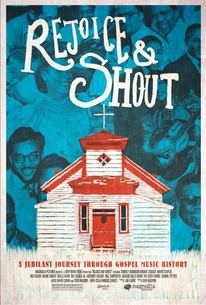 Movie Info
Rejoice and Shout traces the evolution of Gospel through its many musical styles - the spirituals and early hymns, the four-part harmony-based quartets, the integration of blues and swing into Gospel, the emergence of Soul, and the blending of Rap and Hip Hop elements. Gospel music also walked in step with the story of African-American culture - slavery, hardscrabble rural existence and plantation work, the exodus to major cities, the Depression, World War II, civil rights and empowerment. Rejoice and Shout connects the history of African-American culture with Gospel as it first impacted popular culture at large. Years in the making, Rejoice and Shout captures so much of what is special about this music and African-American Christianity - the sermonizing, the heartfelt testimonials, getting slain in the spirit, the hard hollering, and of course the inspiring music. --(c) Magnolia
News & Interviews for Rejoice & Shout
Critic Reviews for Rejoice & Shout
Audience Reviews for Rejoice & Shout
½
"Rejoice and Shout" is an informative and entertaining documentary that acts as a survey history of gospel music, allowing it to not only be told by experts, but in the wonderful music which is shown in many delightful clips. This way we can see how gospel music has not only influenced music in general but also been affected by the outside world at large. Regretfully, the documentary does not know where to start, going off on tangents for a while before finally settling for the beginning which in this case is slavery where the Christianity of the masters mixed with the slaves' native religion to create a new form of Christianity. Soon after which, music was added to the mix. As well testified, gospel music springs from the singers' enthusiastic beliefs and faith. For example, Pastor Andrae Crouch puts it best when he says we would all melt if we ever directly heard the voice of God, so His words have to be conveyed through intermediaries. At the same time, I can attest one does not have to believe similarly to enjoy gospel music or anything else wonderful in this bountiful world, to disagree with Smokey Robinson.
Rejoice & Shout Quotes
There are no approved quotes yet for this movie.
Discussion Forum
Discuss Rejoice & Shout on our Movie forum!