Ball in the House (Relative Evil)
(2001)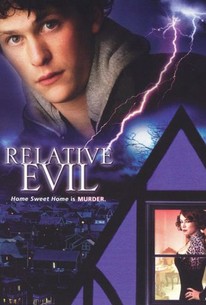 AUDIENCE SCORE
Critic Consensus: No consensus yet.
Ball in the House (Relative Evil) Videos
Ball in the House (Relative Evil) Photos
Movie Info
Studies say that the majority of homicides are committed by someone the victim knows, and 17-year-old J.J. White (Jonathan Tucker) is about to find that out the hard way. Upon returning to his working-class home from a court-ordered stay at rehab, J.J.'s struggle to remain sober is complicated by both the stress of dealing with his dysfunctional family and a series of late night snowstorms that makes venturing into the outside world impossible. As cabin fever takes hold and J.J. begins to suspect that his own family is plotting to kill him for the insurance money, he must discover if his paranoia is truly justified or psychosomatic if he is to survive and maintain his sanity. ~ Jason Buchanan, Rovi
Rating:
R (for language, drug and alcohol content, and a scene of sexuality)
Genre:
, ,
Directed By:
Written By:
In Theaters:
On DVD:
Runtime:
Studio:
Redeemable Features
Critic Reviews for Ball in the House (Relative Evil)
There are no critic reviews yet for Ball in the House (Relative Evil). Keep checking Rotten Tomatoes for updates!
Audience Reviews for Ball in the House (Relative Evil)
½
Relative Evil (Tanya Wexler, 2001) I had originally intended to mention during the course of this review that Tanya Wexler's Relative Evil (also released under the title Ball in the House) didn't know what kind of movie it wanted to be-comedy, thriller, or inspirational drama. As we went on, however, I think Wexler (Hysteria) and screenwriter Matthew Swan (Mr. Smith Gets a Hustler) did figure out what kind of movie they wanted it to be-but not until after they'd used up too much of the movie's budget to go back and reshoot the early comedic scenes, which stick out like Times Square were it moved to central Wyoming in this otherwise bleak, pitiless picture. Plot: we open in rehab. JJ (The Ruins' Jonathan Tucker) is telling the tale of how he ended up there-in a partial body cast, no less-in a group therapy session led by his doctor, whom we only ever know as Dr. Charlie (L. A. Confidential's David Strathairn). It takes a long, long time-six months, in fact-but eventually Dr. Charlie recommends JJ be returned to the world, a week before his eighteenth birthday. And thus we meet JJ's family-mother Phyllis (Eternal Sunshine of the Spotless Mind's Deirdre O'Connell), stepfather Bull (American Gangster's Dan Moran), little brother Benji (One Small Hero's Nathan Kiley in his final, to date, screen appearance; he's moved behind the camera to direct), Uncle Ernie (Stir of Echoes's Larry Neumann Jr.), and Aunt Dot (Bound's Jennifer Tilly). They're not the most functional of families; I had Harry Dean Stanton's brood from Twister in mind much of the time. Except Aunt Dot, it turns out, is a bit more sinister than anyone in that movie; she's taken out a $75,000 life insurance policy on JJ, good until he turns eighteen, naming she and Bull as beneficiaries-and she's managed to get Bull to sign it. JJ has no idea what sort of vipers' tangle he's walking into, but he has enough problems of his own trying to stay clean and keep the steel-mill job Bull got for him while constantly being courted back to the dark side by constantly-tipsy Dot, old coke buddy Bobby (Vacancy's Ethan Embry), and Bobby's on-again-off-again girlfriend Lizzie (Red Dirt's Aleksa Palladino). And just to add the cherry on top of this whole mess, the night JJ goes home, the area is hit with a freak snowstorm that basically confines the entire family to the house. Once the movie gets into its groove, which happens about halfway through, this becomes a serviceable thriller that's willing to edge into some pretty dark territory and delivers a quite unexpected knockout punch during its climax. Unfortunately, while it's getting there, it has a tendency to meander that kills any tension the movie tries to build in its first half. Which certainly doesn't mean it's worth watching; just be prepared to not be sure exactly what the movie is for a while. ** 1/2
Robert Beveridge
½
The film just doesn't quite work. It tries, but it is unpleasant and unappealing. The performances are good, but it leaves a nasty taste in your mouth. Jonathan Tucker is quite good. Jennifer Tilly is always appealing in her offbeat way.
James Higgins
Ball in the House (Relative Evil) Quotes
There are no approved quotes yet for this movie.