Rembrandt's J'accuse
(2008)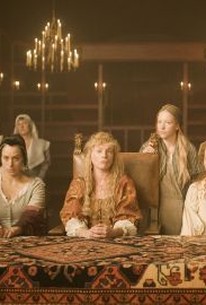 Rembrandt's J'accuse Photos
Movie Info
Filmmaker Peter Greenaway explored the life and work of the celebrated Dutch artist Rembrandt van Rijn in his 2007 drama Nightwatching, and he returns to this theme in the documentary Rembrandt's J'Accuse, in which he presents an in-depth analysis of one of Rembrandt's best-known paintings, 1642's "The Night Watch." With Greenaway offering an onscreen narration through much of the film, the director presents an illustrated lecture on the artist, the painting, and the many circumstances behind it -- the culture and politics of Holland in the 17th century, the real-life figures depicted in the painting (among them Capt. Frans Banning Cocq and Willem van Ruytenburgh), the controversy that surrounded these men, and the subtle suggestions Rembrandt's representation advanced -- and why some believe backlash over "The Night Watch" brought Rembrandt's career to a premature end. In addition to paintings and text, Greenaway also features several actors who are "interviewed" as key figures in the story: Martin Freeman appears as Rembrandt (as he did in Nightwatching), Eva Birthistle portrays his wife, Saskia, and Emily Holmes and Jodhi May impersonate their household servants. Rembrandt's J'Accuse was an official selection at Toronto's 2009 Hot Docs Film Festival.
Rating:
NR
Genre:
, , ,
Directed By:
Written By:
In Theaters:
On DVD:
Runtime:
Studio:
Critic Reviews for Rembrandt's J'accuse
Audience Reviews for Rembrandt's J'accuse
A companion piece to Peter Greenway's Nightwatching, it's a fascinating documentary that clears up the events depicted in a movie quite a bit. The director uses an unconventional narrative, sometimes using the actors from the movie as "witnesses" to tell the story. I can't speak as to whether or not the conspiracy theory holds water, but as a movie, it's a captivating watch.
Gabriel Knight
Peter Greenway's companion documentary to his excellent Rembrandt pic "Nightwatching". It feels more like an extended extra/promo for that film than a stand-alone piece. Well-done, but too much of it feels like Greenway is pulling the "evidence" out of thin air. It comes across as a bit self-indulgent at times, as well, with an inset of Greenway's talking head obscuring parts of the very painting he is discussing.
Paul Cardullo
This Peter Greenaway film is heady, dense and intellectually demanding. Big surprise, eh? Mixing documentary style with recreations drawn from his companion film "Nightwatching" (which is much easier to watch), Greenaway himself appears onscreen to narrate a wordy, PhD-level dissection of Rembrandt's celebrated painting "The Night Watch." Relying on another of his easily parodied "list" structures, the director proceeds through 34 numbered mysteries surrounding the work, offering explanations that may or may not be fully provable (I am not an art scholar, so I'm not the one to ask). As with "Nightwatching," the central thesis is that Rembrandt embedded clues in his painting to expose an elite Dutch militia group's murder conspiracy. And furthermore, that this daring act of rebellion led to his upper-crust benefactors shunning him -- thus bringing about his financial ruin.
Eric Broome
Super Reviewer
Rembrandt's J'accuse Quotes
There are no approved quotes yet for this movie.
Discussion Forum
Discuss Rembrandt's J'accuse on our Movie forum!