Le Souvenir d'un avenir (Remembrance of Things to Come)
(2001)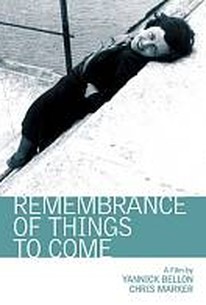 Movie Info
REMEMBRANCE OF THINGS TO COME, the latest "cine-essay" of Chris Marker, is dense and demanding, a splendid reminder that his nimble, capacious mind has lost none of its agility, poetry, and power. Ostensibly a portrait of photographer Denise Bellon, focusing on the two decades between 1935 and 1955, the film leaps and backtracks, Marker-style, from subject to subject, from a family portrait of Bellon and her two daughters, Loleh and Yannick (the latter co-authored the film), to a wide-ranging history of surrealism, of the city of Paris, of French cinema and the birth of the cin (C)mathque, of Europe, the National Front, the Second World War and Spanish Civil War, and postwar politics and culture.Full of Marker jokes (a great one about artists and cats), word play (Citroen/citron), filmic homages (Musidora makes a memorable appearance), peculiar art history, a consideration of the 1952 Olympics, and astounding segues from French colonialism in Africa to women in the Maghreb, to a Jewish wedding and gypsy culture in Europe, to Mein Kampf and the Nazi death camps (Birkenau, Auschwitz), the film opens with Dali and ends with Mompou, traversing in its short time a world of thought, feeling, and history.A small masterpiece of montage, REMEMBRANCE OF THINGS TO COME is from moment to moment reminiscent of Resnais, Ivens, even Kubrick, but in its deployment of still photographs (as in La Jet (C)e), its theme of history and memory, its subject-skipping montage and rapid shuttle of wit and philosophy, REMEMBRANCE is pure, marvelous Marker. -- © First Run/Icarus Films
Rating:
NR
Genre:
, ,
Directed By:
In Theaters:
On DVD:
Runtime:
Studio:
Critic Reviews for Le Souvenir d'un avenir (Remembrance of Things to Come)
Audience Reviews for Le Souvenir d'un avenir (Remembrance of Things to Come)
½
(Theatre) (First Viewing, 5th Marker film) Unfortunately, Marker's most recent film just isn't nearly as compelling as one would hope. Centering on the career of French photographer Denise Bellon, a friend of the leaders of the Surrealist Movement and a contributer to a ground-breaking French photography magazine during the 30's, who later went on to document native peoples in French colonies in Africa, [b]Remembrance of Things to Come[/b] portrays the various phases of her career. It's obvious that Ms. Bellon was an extremely talented individual who had an eye for the unusual and caught on film many images that would later being of extreme historical importance (capturing images of the armies that would fight in the battle that kicked off WWII) and also imprortant in art history (she took the only known photograph of Henri Langlois' bathtub filled with cans containing the treasures of cinema and of the baby carriage he carted them around in on the streets of a war ravaged Paris). I was dissapointed to find that Bellon as an individual is nearly absent from the film. I'm guessing that the filmmakers figured her art would speak for itself, but I kept wanting to know about this seemingly fascinating person behind the camera. Interesting for sure, and it just seems a tad half-baked (its ends a tad too abruptly). Could have used a little more development on this one.
Jesse Last
½
An film essay about the photography of Denise Bellon, who took photos for the Photo Alliance agency since the 30's. Marker's eloquent essay comments on these photos, ranging from the early surrealist movement in Paris to such diverse topics as Henri Langlois's preservation of films during WWII to French colonialism to the Spanish Civil War. It's less discursive than Sans Soleil but still a very dense and intelligent film.
X. T. C.
Discussion Forum
Discuss Le Souvenir d'un avenir (Remembrance of Things to Come) on our Movie forum!