Repeaters
(2010)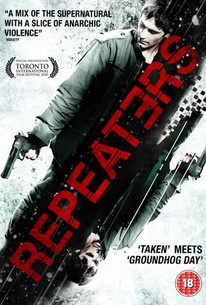 Movie Info
Three twenty-something addicts fight to retain their sanity while locked in a rehabilitation center where the same day plays out time and again in this mind-bending thriller from director Carl Bessai (Severed, Normal). ~ Jason Buchanan, Rovi
Critic Reviews for Repeaters
Audience Reviews for Repeaters
½
The ninth step in recovery is apologizing to all those you've hurt with your drug addiction. When three members of a rehab group fail to complete this step, they are met with a strange consequence. For them, the day they were supposed to complete the ninth step keeps repeating. Movies like Repeaters, are why I watch independent films. I'd never heard of the film, the cast, or the Director, and in fact, this movie isn't even available in the U.S. I saw it as one of my suggestions on Netflix streaming and figured, what do I have to lose? What I found was on of the smartest, most original stories in years. Repeaters isn't just a weird science fiction movie or a drama about addiction, it's both, and it's a whole lot more. Fusing elements of action, drama, and science fiction, Repeaters will have you on the edge of seat craving for more. Words can not express how well written this film was and how it will give you a full range of emotion in just ninety minutes. As for the cast, I'd never heard of any of them, but they were terrific, especially Richard de Klerk, who played the most deranged member of their little group. He really connected all the elements, showing a range that most actors today can't even dream of attaining. Repeaters is a tremendously written roller coaster ride of emotion, with some outstanding performances, and stunning conclusions, and for that it gets labeled as one of our can't miss movies!
Todd Smith
Super Reviewer
Canadian mood thriller has three young adults in confined rehab experiencing the same day over and over - sort of a serious Breakfast Club meets Groundhog Day. Watched this because I enjoyed Amanda Crew in Sex Drive, this is a much different role and she performs very well - I knew she had some talent, although here I notice she's extremely scrawny. Legs like popsicle sticks! The two male leads are good as well, unfortunately the screenplay is not overly ambitious. To that end, the moral question "How would you spend your time knowing there would be no consequences?" is raised but can't decide whether to be philosophical or visceral. If the film is trying to act as a metaphor for our trio trapped in denial of their personal lives and can only move on once dealt with, it is more clever on paper than in execution. Northern British Columbia makes a decorative if overcast backdrop.
Doctor Strangeblog
Super Reviewer
Discussion Forum
Discuss Repeaters on our Movie forum!