Reptilian
(2000)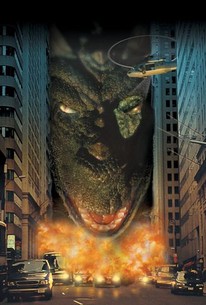 AUDIENCE SCORE
Critic Consensus: No consensus yet.
Movie Info
Shim Hyung Rae's monster movie Reptilian (also known as 2001 Yonggary) plays like a tribute (a low-budget, grade-Z tribute) to the classic Japanese monster movies of the fifties. General Murdock (Dan Cahman) must stop the destructive dinosaur before the president attacks it with nuclear weaponry. Enthusiasts of old Godzilla movies, as well as all those who miss the glory days of Mystery Science Theater 3000, will certainly enjoy this unintentionally campy romp.
Rating:
PG-13
Genre:
, ,
Directed By:
Written By:
On DVD:
Runtime:
Studio:
Columbia Pictures
Audience Reviews for Reptilian
½
The film feels like a classic Japanese monster film, besides the horrible CGI and American actors. The acting is awful, the effects are bad, and the characters are boring. It takes a while for any monster action to start, and there just isn't much of it. It's hard to tell if this was suppose to be serious and a tribute. I won't say it's a horrible film, but it's not very good either. Incredibly cheesy though.
Wes Shad
Ho-ly crap. Unbelievably, horrifically, unequivocally and irreversibly bad. I don't think they make strong enough words in the English language to really describe the depths of this thing. It is so bad, that its good, bad, good, and then bad again. Seriously.
Julian Toepfer
Directed by Shim Hyung-rae and starring Jo Sung-woo, Kim An-hong, Dan Cashman, Bruce Cornwell and Dennis Howard. Now pre D-War (Dragon Wars) director Shim Hyung-rae wanted to create his own massive monster before the release of the remake of "Godzilla" and it is a remake of a 60s film called Yonggary. With CGI he created this... But alternately because of the use of American actors and settings Yonggary and extremely negative reviews it is not popular in Korea. Though D-War is better both films are still terrible. [IMG]http://i53.tinypic.com/243nqcx.jpg[/IMG] Spoilers (But who cares???) A very long and simply story...In America they uncover a 200 million year old robot called Reptilian who get awaken by Aliens and than it attacks NYC. And the human think they can destroy the Alien spaceship before Reptilian destroys the entire city and there mind control device. So after people being killed and after some buildings fall down...They stop the aliens and they send Reptilian to an abandon island. [IMG]http://i53.tinypic.com/53a8wl.jpg[/IMG] I just saved you two hours of your life in this horrible Kaiju film that competes with A*P*E as being the worst big monster film ever made. (Both made in Korea). 5% for story: It has plot holes bigger than Korea itself and many errors that affect the story but don't worry the screenplay was written by director Shim Hyung-rae who was also a professional comedian. (This film is funnier than his internet clips of him being funny). 0% for acting: Without a doubt some of the worst acting I have ever heard...and some of worst dialogue ever. 1% for characters: I didn't care for any of them...The only 1% is that I liked Reptilian. And I still have my late 90s 2ft Reptilian figure that is worth my than the film itself. 20% for special effects: They look really good for a Korean film and its extensive use of CGI but it has some of the worst rendering in cinema history. The Flying scene looks so fake because of poor green screen use. 3% for everything else: It is a massive Korean crew that simply can not keep up with the American actors and vice-versa and it shows so well. The music is somewhat okay but that's truly it. And the picture image is some of the darkest ever. The one and only positive thing that saves this from a 0% is that the film is not boring. Why this was a box-office success in Korea is beyond me. Keiko's score 7-100 There's the trailer if no-one can believe me. http://www.youtube.com/watch?v=e8lwUP0mJg4
Discussion Forum
Discuss Reptilian on our Movie forum!