Requiescant (Kill and Pray)
(1967)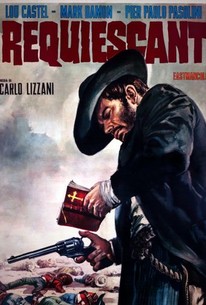 AUDIENCE SCORE
Critic Consensus: No consensus yet.
Requiescant (Kill and Pray) Photos
Movie Info
In the post-Civil War West, a young boy is rescued from a massacre by Protestants who instill the value of pacifism in the young boy. But it's only when he chases after his missing step-sister that he discovers a skill for gunslinging, takes on the name Requiscant, and re-enters the world of violence denied to him as a child. This spaghetti Western also includes a cameo from director Pier Paolo Pasolini as a renegade priest.
Rating:
NR
Genre:
,
Directed By:
In Theaters:
On DVD:
Runtime:
Critic Reviews for Requiescant (Kill and Pray)
There are no critic reviews yet for Requiescant (Kill and Pray). Keep checking Rotten Tomatoes for updates!
Audience Reviews for Requiescant (Kill and Pray)
½
Starts strong enough, then it gets a bit too carried away with it's political agenda. Castel's character forgets about his initial reason to find Ferguson, and the speeches about aristocrats and the proletarian fill the second half. There are some great sequences, including a game of "rope", and Ortolani's score gives a good mood. Mark Damon's villain is cool, dracula cape and everything, more polishing in the story and this could had been even better.
Tsubaki Sanjuro
Super Reviewer
½
A religious figure that turns to violence? Sounds like a fine Spaghetti Western concept for me! Actually Kill and Pray is one of the best of the "forgotten" spaghetti westerns I have come across. By "forgotten" I mean not easily obtainable in the home video market and since it is so rare to find not many people have seen the damn thing. Hell the DVD I have from Wild East Entertainment is even out of print and I recently saw a copy sell for over $140. Yikes! That's a shocker especially I obtained mine for only $20 3 or 4 years ago. Our film opens with a slaughter and a young boy is traumatized by the killing of his family and friends. A passing pastor and his family find the boy and take him in. He is raised to be religious and in turn has become a pastor himself. All is well until one day he runs into the man that slaughtered his family and he then becomes tempted to stray from his strict religious life to get revenge! This isn't the first or last time a film will have a plot that revolves around a religious figure turning violent (hell it's most recently seen in the grand Book of Eli) but despite it's familiar story Kill and Pray (better known overseas as Requiescant) is made very especially considering its budget. Lots of sharp cinematography and stylistic shots supplied by Carlo Lizzani. I especially dug the final act which takes place in a burning church. My one complaint of the film would be our lead character portrayed by Lou Casteel. Lou Casteel has never impressed me in any spaghetti western and I found his portrayal of the torn religious gunfighter lacking. I never felt the emotional turmoil the character was feeling as he was tempted into violence. His portrayal gives me a little of a "what-ever" vibe. I however was impressed with Mark Damon's creepy portrayal as our head villain with homosexual overtones. This wouldn't be the first time a villain would have these overtones (see also Django, Kill!) but never before with this subtle creepiness! If you're a spaghetti western fan then I highly recommend this forgotten classic of the genre. I feel even casual spaghetti western fans will find aspects to like here. Is it worth a $140... well I wouldn't recommend anyone spending that kind of dough on a DVD. It's worth the hunt if you can find it for a reasonable price. It's just a damn shame it isn't more widely available so more fans can discover it.
Eric Reifschneider
Requiescant (Kill and Pray) Quotes
There are no approved quotes yet for this movie.
Discussion Forum
Discuss Requiescant (Kill and Pray) on our Movie forum!