Resistance
(2003)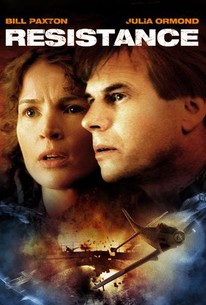 AUDIENCE SCORE
Critic Consensus: No consensus yet.
Movie Info
Author Anita Shreve's wartime romance comes to life on the big screen in this tale of passion and danger set against the backdrop of World War II and starring Bill Paxton and Julia Ormond, and Sandrine Bonnaire. American pilot Ted Brice (Paxton) has been gunned down over Nazi-ruled Belguim. Miraculously, Ted survives his violent crash to the earth and is quickly rescued by members of the resistance. Things soon become complicated, however, while during the course of his convalescence Ted begins to form a close romantic bond with the wife (Ormond) of resistance movement's leader. As war rages all around them and loyalties are put to the ultimate test, the two forbidden lovers gradually come to realize just how much they are risking by pursuing one another in such tumultuous times.
Critic Reviews for Resistance
Audience Reviews for Resistance
(2003 Director: Todd Komarnicki) Touching first-hand account of a down American pilot, Ted (Bill Paxton) who crashed in Belguim during WW II and the ensuing repurcussions in the little Belgian village. Claire (Julia Ormond) nurses Ted back to health with the approval of her husband, Henri (Philippe Volter), who is part of the Resistance movement. Ted was found by a brave youngster whose mother is overwhelmed by her involvement with a brutal German soldier flees to Claire's & Phillipe's. The youngster finds a warm home with Claire during much turmoil.
Resistance Quotes
There are no approved quotes yet for this movie.