Resistance
(2003)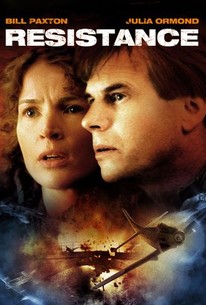 AUDIENCE SCORE
Critic Consensus: No consensus yet.
Movie Info
Author Anita Shreve's wartime romance comes to life on the big screen in this tale of passion and danger set against the backdrop of World War II and starring Bill Paxton and Julia Ormond, and Sandrine Bonnaire. American pilot Ted Brice (Paxton) has been gunned down over Nazi-ruled Belguim. Miraculously, Ted survives his violent crash to the earth and is quickly rescued by members of the resistance. Things soon become complicated, however, while during the course of his convalescence Ted begins to form a close romantic bond with the wife (Ormond) of resistance movement's leader. As war rages all around them and loyalties are put to the ultimate test, the two forbidden lovers gradually come to realize just how much they are risking by pursuing one another in such tumultuous times.
Rating:
R
Genre:
Directed By:
Written By:
In Theaters:
On DVD:
Runtime:
Studio:
Lionsgate
Audience Reviews for Resistance
½
RESISTANCE A WWII drama set in Nazi-occupied Belgium in 1944 around the time of the Allied invasion. Shot on location. Good casting. The plot centers on the illicit romance between a downed American pilot and a married Belgian farm woman whose husband is a leader in the local resistance. It's a complicated situation fraught with danger at every turn and emotions run high. This could be a good story and seems credible with regard to any number of possible personal conflicts, rivalries and/or power struggles that might conceivably have existed between townspeople who had chosen to be collaborators, agents or double agents for either side, and who are more than a little anxious for the war to end and the invaders to go home so that they can pick up the normal threads of their lives. Even the tension that exists between the husband and wife seems credible. However, what is NOT believable in the very least is the characterization of Major Ted Brice. It just doesn't make any sense at all unless 1) the man was a complete doofus to begin with; or 2) when his plane crash landed he received a terribly hard hit on his head and forgot himself and his mission absolutely completely. As a highly-trained American officer and veteran of 31 important reconnaissance missions behind enemy lines, having been entrusted by his commanding officers with confidential codes and responsibility for the lives of his own flight crew and millions of troops on the move, for the most part Major Brice's behavior as portrayed is not just unprofessional and unethical but rash if not downright fool-hardy regarding his lust for this farm woman as if he were a love-sick teenager with raging hormones. I don't buy it. Still, he kind of redeems himself at the end of the movie, but I'm sure that there was a better way to handle his role.
Ann Lorraine
½
It's a nice film, decently made technically, the period detail isn't too bad. The acting is fine. The main problem with this movie is that it is very slow moving, downwright boring at times. It seemed endless.
James Higgins
(2003 Director: Todd Komarnicki) Touching first-hand account of a down American pilot, Ted (Bill Paxton) who crashed in Belguim during WW II and the ensuing repurcussions in the little Belgian village. Claire (Julia Ormond) nurses Ted back to health with the approval of her husband, Henri (Philippe Volter), who is part of the Resistance movement. Ted was found by a brave youngster whose mother is overwhelmed by her involvement with a brutal German soldier flees to Claire's & Phillipe's. The youngster finds a warm home with Claire during much turmoil.
Resistance Quotes
There are no approved quotes yet for this movie.
Discussion Forum
Discuss Resistance on our Movie forum!