Resolution
(2013)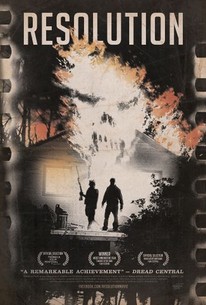 Movie Info
In an abandoned cabin on the edge of an Indian reservation, Mike (Peter Cilella) stages a risky intervention to force his friend Chris (Vinny Curran) off meth and into rehab. But what begins as an attempt to save his friend's life takes an unexpected turn when ominous threats start appearing around the house - and they realize that Chris's addictions are the least of their worries. RESOLUTION is genre-bending horror at its most bone-chilling. (c) Tribeca film
Critic Reviews for Resolution
Audience Reviews for Resolution
½
Terrible. A few creepy scenes, but boring and pointless otherwise. Ridiculous ending.
Erin Collins
Super Reviewer
½
Even if the plot drags in the first two acts, eliminating the tension and making the mystery feel bland and not engaging, this is an interesting effort that finds a curious balance between humor and horror, with a smart meta-twist in the third act that justifies all that came before.
Carlos Magalhães
Super Reviewer
I thought this film had a clever little concept, with some solid execution and intelligent dialogue. I think parts of it, especially the climax, really remind of Cabin in the Wood's Ancient Ones representing us, the audience, and the fact that we demand "sacrifice" from our horror movies. The movie recalls that concept, as well as the fact that the concept of narratives and how stories end are a big important part of this film. So in a way, the movie is probably, at times, too clever for its own good but I do think it was a unique approach to telling the story. Not a lot of people have the balls to subvert typical horror, or film, tropes in general and it's nice to see a movie that tries to go about its own path. I do think the film almost HAD to be funny considering the way the concept played out. It was a good concept, but it didn't really have much in the way of horror or really built up tension. Yes, there are strange goings-on in this place, but I never really felt any dread that something shitty was about to happen. Thankfully, the clever dialogue sort of picks up the slack and Vinny Curran, who plays Chris, is definitely entertaining. Peter Cilella was fine, but unimpressive and sometimes his delivery left a lot to be desired. But I did like the chemistry between the two, so that helps. In all, this is a solid movie, one that certainly isn't perfect but it is ambitious on top of having a good script and some good performances. This isn't something you really need to go out of your way to see, like Cabin in the Woods, but it does entertain for its relatively short running length.
Jesse Ortega
Super Reviewer
Resolution Quotes
There are no approved quotes yet for this movie.