The Resurrected
(1991)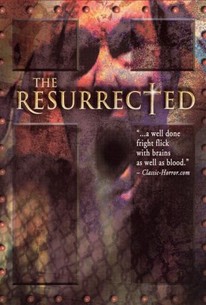 AUDIENCE SCORE
Critic Consensus: No consensus yet.
Movie Info
This low-budget film from Alien scriptwriter Dan O'Bannon (his first film since the 1985 zombie hit Return of the Living Dead) is one of the more loyal adaptations of fantasy author H.P. Lovecraft, taking as its source the short story The Case of Charles Dexter Ward. Set in Lovecraft's home town of Providence, Rhode Island, the story involves the investigations of hard-boiled private eye John Marsh (John Terry) into the mysterious activities of Charles Dexter Ward (Chris Sarandon). It seems that Ward is becoming increasingly obsessed with the occult practices of his distant ancestor Joseph Curwen (also played by Sarandon) who was reputed to have found the secret of resurrecting the dead. Much to the horror of his wife Claire (Jane Sibbett), Ward is slowly being possessed by Curwen's malevolent spirit, and he is compelled to perform horrible experiments on the locals in pursuit of his goal.
Rating:
R
Genre:
Directed By:
Written By:
In Theaters:
On DVD:
Runtime:
Studio:
Live Home Video
Critic Reviews for The Resurrected
All Critics (4) | Fresh (2) | Rotten (2)

The thrills, chills, and intermittent gore-spills are way too few and far between to keep the loyal horrorheads from getting restless.

A surprisingly effective version of H.P. Lovecraft's almost-unfilmable horror story The Case of Charles Dexter Ward. Chris Sarandon's villain steals the show.

Audience Reviews for The Resurrected
½
The Resurrected (Dan O'Bannon, 1992) The great screenwriter Dan O'Bannon made an indelible mark in Hollywood with his first two scripts, a couple of science-fiction tales that twisted genre conventions called Dark Star (made into a cult-classic 1974 movie by a then-unknown director named John Capenter) and Alien (made into a classic 1979 film by then-obscure TV episode director Ridley Scott). While O'Bannon would pursue science fiction his entire working career as a writer, penning such gems as Total Recall and Invaders from Mars, when he took to the director's chair, he went with the other genre he'd worked in: horror. O'Bannon was also responsible for the script for the excellent, overlooked 1981 Gary Sherman film Dead and Buried, so he obviously had horror chops. Then, in 1984, he got his first chance to direct, and he jumped at it. The result was 1985's The Return of the Living Dead, to this day the best zombedy of all time and, to my mind, one of the best movies in any genre. (On my list of the thousand best movies ever made, The Return of the Living Dead sits at #8.) For some reason, O'Bannon would wait another seven years to direct again, and when he did, he found himself guilty of the same hubris so many horror directors fall prey to: first off, he attempted to adapt an H. P. Lovecraft story ("The Case of Charles Dexter Ward") to the screen, something that has been tried many times and usually failed. Second, and more odd for a veteran screenwriter: he went off someone else's script to do it. The Resurrected (since re-released under the even more ludicrous title Shatterbrain) tells us the story of one Charles Dexter Ward (Fright Night's Chris Sarandon), a nice, average guy from New England who happens to own a second house out in the middle of nowhere. As the time he spends up there increases, his wife Claire (Jane Sibbett, who should be, but probably isn't, best remembered as the female lead on the highly underrated TV series Herman's Head) hires a private investigator (Full Metal Jacket's John Terry) to find out what he's up to. The two of them discover a diary from the eighteenth century kept by one of Ward's ancestors, and begin to fear that Ward is duplicating the experiments of Joseph Curwen (also played by Sarandon, which should give you a clue). It's not a bad little film, and aside from updating the setting to the 1990s, it's surprisingly faithful to the source material. And yet, O'Bannon never quite seems to inhabit the material the way he did with The Return of the Living Dead, a screenplay he wrote. This one was turned in by Brent V. Friedman, who in the twenty years since the release of this movie has become a very respected writer of TV science fiction (Dark Skies, the recent Twilight Zone reboot, The Clone Wars), but who in 1992 was a relatively-untested commodity, best known for Hollywood Hot Tubs 2: Educating Crystal. Not really the guy to be developing a Lovecraft script, and it shows. But compared to most of the direct-to-DVD nonsense out there, the flaws in it are minor, and have to do with pacing and characterization (on the script side) and lighting and set design (on the tech side) rather than major problems that turn this into a showstopper. It's not The Return of the Living Dead, but then, few things are. Probably best sought out these days by O'Bannon completists or fans of the principals, but Lovecraft purists take note: this is, comparatively, a pretty good adaptation. ** 1/2
Robert Beveridge
(***): Thumbs Up I had fun with this one. It had some creepy moments that really kept me interested.
TTT C
½
Not a Chris Sarandon fan, but he really surprised me here. I had very low expectations but found myself pleasantly entertained.
Amy D.
The Resurrected Quotes
There are no approved quotes yet for this movie.
Discussion Forum
Discuss The Resurrected on our Movie forum!