Retreat
(2011)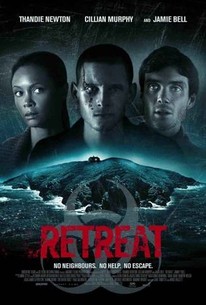 Movie Info
Taking an isolated break on an uninhabited island, Martin (Cillian Murphy) and Kate (Thandie Newton) are about to find that their island retreat is about to become a prison of unimaginable terror. When a blood soaked stranger (Jamie Bell) stumbles through their door claiming an apocalyptic virus is sweeping across Europe, their lives are turned upside down as they face what could be the end of everything they know. Using all means necessary, they must fight to escape the approaching threat. But escape is only the beginning of their terrifying fight for survival... -- (C) Official Site
News & Interviews for Retreat
Critic Reviews for Retreat
Audience Reviews for Retreat
A perfect example of a decent psychological thriller. .....I see so many bad reviews, but I found this rather good. This surely wasn't a plot that has been done over, and over. The actors were very good (Cillian is one of my faves). I think that the ending made a lot of people mad. I, personally, thought that it was an appropriate ending. It sure answered any questions that I might have had by that point.
Cynthia S.
Super Reviewer
½
I had pretty high expectations for Retreat because: A. I'm a big fan of both Thandie Newton and Cillian Murphy. and... B. I like thrillers in general, and it's been a while since I've seen a good one. And does it live up to those expectations? Not particularly. It's certainly a tense movie, with a menacing stranger showing up at the remote island vacation cottage of a couple, bringing with him frightening tales of a global pandemic. They mustn't leave and they must seal themselves away inside the cottage to avoid the certain death that outside contact and infection brings... according to him. But, is he telling the truth? Is the threat really the world outside, or the man in their home? There's a twist or turn near the end that keeps Retreat from being strictly as predictable as my description might have lead you to believe, but whether that makes the story any better is up for debate. Personally, I found it to be somewhat underwhelming once it was all revealed. Retreat does keep you guessing about what to believe, to a certain extent, but I can't say that I "enjoyed" watching the movie. The characters are all flaws and bad decisions, with no real reason to invest in them and hope they survive whatever threat, be it viral or human, that may endanger them. The acting is nothing special, thanks to a pretty pedestrian script that lacks any semblance of nuance. The tragedy that brings the couple to the cottage has no real relevance to the story, which makes it nothing more than pointless backstory. Their history is brought up in careful detail, only to never lead anywhere. Murphy's character is written to be such a weak and passive man that it borders on caricature and Newton's has two emotions, unhappy and afraid (though she still manages to be absolutely beautiful). Jamie Bell goes overboard on the menace and danger, when some ambiguity would have served both the character and story much better. This was definitely a flawed experience for me. I didn't dislike the movie, and as I said, it can be quite tense at times, but it just seemed off in several ways. The word "underwhelming" comes to mind.
An unforgettable and powerful edge of your seat thriller that your pulse-pounding and your heart-racing all the way to the end. It`s loaded with gripping suspense and unstoppable tension. It`s utterly well-crafted and incrediably performend by its wonderful cast. A riveting tour de force of a thriller. A real knockout. Cillian Murphey and Thandie Newton are outstanding. Jamie Bell is electrifying, he gives a strong, confident and and terrifying performance, he`s a real show stealer. Murphey, Bell and Newton give great strength to their characters and just helps makes this movie work more. A little bit of Straw Dogs meets alot of Dead Calm. A well-polished character study with a tense claustrophobic feel that works out well. A mind-blowing ride that`s twisty, frequently thrilling and tremendously entertaining movie. Director, Carol Tibbetts crafts a brilliant and remarkable film.
Retreat Quotes
| | |
| --- | --- |
| Jack: | [to Kate] Repeat after me. We are not going anywhere. |
| | |
| --- | --- |
| Jack: | There's been an outbreak. Global pandemic. It's fatal, and it's spreading, rapidly. |