Retro Puppet Master (Puppet Master 7)
(1999)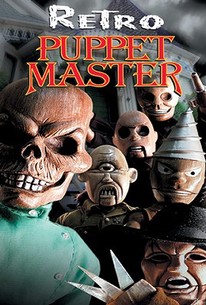 AUDIENCE SCORE
Critic Consensus: No consensus yet.
Movie Info
The Puppetmaster Andre Toulon (Greg Sestero) battles supernatural forces in order to rescue loved ones.
Critic Reviews for Retro Puppet Master (Puppet Master 7)
Audience Reviews for Retro Puppet Master (Puppet Master 7)
½
Direct to video, sloppily made horror shlock starring The Room's Greg Sestero boasting a ridiculously funny French accent and a weirdly flamboyant robe.
Edward Boxler
Super Reviewer
Well here we go again as this franchise jumps around its own timeline, this film is a prequel to the third film (if you can remember that far back) and showcases a young 'Toulon' in Paris and how he acquires the secret of life. Believe it or not but this film actually starts off as a sequel to the third film! yes that's right, this film carries on from where the third film left off...kind of. There are more continuity issues here (again) as according to the original film 'Toulon' actually blows his brains out in 1939, yet this is set in 1944? I mentioned this in the review for the third film as this error seems to have been ignored, so what the hell eh, lets carry on past this fudge up and pretend it never happened. This film again does seem to have slightly better production values than previous films. Supposedly set in Paris (obviously not) and they have done well to create an early 1902 feel merely with shadows and a lot of subtle hints, good use of props, mist and lighting I must say. The Cairo set attempts are less effective with the crude use of some archive footage hehe. Again I must also give kudos to the costumes, I'm unsure how accurate they might be but to the average Joe they do the job and sell the effect. Of course the plot is ludicrous with ancient mummies resurrected and marching about the place trying to be cool as if they just walked off 'The Matrix' set. Nice idea but the director has foolishly made them into something out of character for this type of flick. We do discover that the demon 'Sutkh' from 'Puppet Master IV/V' is or was an Egyptian God it seems so that's interesting I guess. Some fun acting from old 'Star Trek' actor Jack Donner and again Guy Rolfe briefly. As usual its the nice work on the puppets that help the film along. The 'retro' designs are just as cool as the regular puppet designs but stop motion is a bit shaky in this one. No blood or gore what so ever, not much real tension or excitement but its an easy going adventure...can't really call this a horror franchise anymore.
Phil Hubbs
Super Reviewer
Pointless seventh entry that definitely never should have seen the light of day, I'm curious to know why they keep making bad films. Retro Puppet Master is an awful film with yet another poorly constructed story. This time around there are supernatural elements thrown into the Sci Fi horror formula, unfortunately it doesn't pay off, far from it. I personally think k it's a shame that it was made this, as I quite enjoyed the original Puppet Master. That film was a cheesy, so bad it's good Sci fi flick with killer puppets. There could have been so many great ideas for sequels, and with this one it seemed like they were finally taking a step in the right direction. Unfortunately fifteen minutes in, you realize that this was just going to your typical Puppet Master mess of a film. The ideas may have been good, but the problem was a bad script, bad directing and overall lazy filming. This is a film with wasted potential and what could have been comes crashing down. The film is like every other sequel unfortunately, poorly constructed, directed and acted. Watch something else instead. Retro Puppet Master just doesn't deliver anything worth watching. I personally think that this is a film not worth anyone's times and there are better sequels and horror flicks in the genre than this one. Don't expect anything good here, as this is after all, the seventh entry in a series that should been long concluded.
Retro Puppet Master (Puppet Master 7) Quotes
There are no approved quotes yet for this movie.