Return from Witch Mountain
(1978)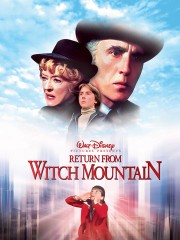 Tickets & Showtimes
Movie Info
Disney sequel about two children with supernatural powers who are used by evil-minded adults. Bette Davis, Christopher Lee, Kim Richard, Ike Eisenmann. Dazzler: Christian Juttner. Yokomoto: Jack Soo. Eddie: Dick Bakalyan. John Hough directed.
more
Buena Vista Distribution Company
Cast
News & Interviews for Return from Witch Mountain
Critic Reviews for Return from Witch Mountain
Audience Reviews for Return from Witch Mountain
Dean McKenna
Super Reviewer
Psychic space kids Tony and Tia are separated in an urban setting. Bette Davis and Christopher Lee are using Tony's powers to steal gold. Tia must enlist the help of a street gang to rescue her brother. It's a lot of ultra-cool Disney fun. The scene where Tony robs the western museum and animates the mannequins was freaky. The scene where Tia enpowers Jack Soo's bus was memorable. Not as fresh as the original movie, but it's rare that we see psychic children using their powers for good.
Tony and Tia are back for more fantastical adventures in Return From Witch Mountain. While visiting Pasadena Tony is abducted and brainwashed by a scientist in order to use his telepathic powers for evil, meanwhile his sister Tia befriends a local street gang who offer to help her find her brother. Christopher Lee and Bette Davis co-star and make for an interesting pair of villains. Additionally, the film is fairly good at creating stakes and bringing an element of danger to the telepathic powers. Fun and exciting, Return From Witch Mountain is an impressive sequel that's better than the original.
Return from Witch Mountain Quotes
Discussion Forum
Discuss Return from Witch Mountain on our Movie forum!
News & Features