The Return of Captain Invincible (Legend in Leotards)
(1984)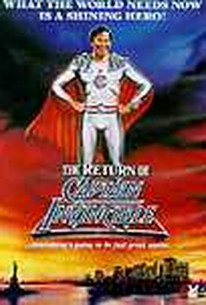 AUDIENCE SCORE
Critic Consensus: No consensus yet.
The Return of Captain Invincible (Legend in Leotards) Videos
The Return of Captain Invincible (Legend in Leotards) Photos
Movie Info
This patchy, uneven combination of fantasy and musical comedy is hilarious in parts and embarrassing in others, though the premise has great potential in itself -- a screwball Captain Invincible is out to save the world from his nemesis, Mr. Midnight, the white supremacist. Captain Invincible (Alan Arkin) is wallowing in his cups in the Australian outback when he receives an unusual call from the American President asking for his help. Unusual because the Captain had no choice but to go into exile after Joseph McCarthy's Un-American Activities Committee became suspicious of his red cape, and he has never been sober enough to recover from the shock. This history is given in a mock newsreel at the beginning of the film. But now Mr. Midnight is threatening to dismember New York City by convincing all the ethnic groups to live along the seashore. Once they are situated on beachfront property, he will blast out a crack in the earth behind them, cut their connection to the mainland, and send them drifting off into the Atlantic. It seems the dastardly Midnight has stolen the ultra-secret hypno-ray and can slice off New Jersey whenever he wants. Weakened by depression and alcohol, Captain Invincible is nursed back to full throttle by Patty Patria (Kate Fitzpatrick) and is soon ready to zoom over Sydney to the far side of the globe -- after practicing in harness in front of rear-projected scenes. Meanwhile, Mr. Midnight and his sidekick are all set to defend their turf, and their ability to slice it up -- though the (American) patriotic sentimentality that prevails in the end, after several other songs have come and gone, is summarized in a rendition of "God Bless America" that conflicts with the opening scenes and may leave foreign audiences cold. ~ Eleanor Mannikka, Rovi
Rating:
PG (violence)
Genre:
, , ,
Directed By:
Written By:
In Theaters:
On DVD:
Runtime:
Studio:
Magnum Entertainment
Critic Reviews for The Return of Captain Invincible (Legend in Leotards)
All Critics (4) | Fresh (2) | Rotten (2) | DVD (2)
It's entirely unfunny, with intentionally campy dialogue that falls flat and songs to match.

One of the best superhero movies ever made (really).
Audience Reviews for The Return of Captain Invincible (Legend in Leotards)
Maybe it takes a former alcoholic, or ex-drug addict, to truly appreciate the genius of this film. Captain Invincible was born with superhuman abilities, courtesy of an alien race, and for the first 3 decades of his life was the usual, self-confident superhero, who knows that he's fighting the good fight. Then, shortly after World War 2, a criminal genius who takes the long view began a campaign to turn the Public against the Captain. Feeling isolated and alienated Captain Invincible becomes an alcoholic, and spends the next 2 decades as a drunken bum. It is only when a global crisis forces the then President of the United States to seek him out that the story really gets cracking. Since the late 1980s we have seen comic book superheroes lose their sense of identity and moral compass, but I think that the return of Captain Invincible was the first mass market attempt to tell the story of a super-man in a mortal world in a realistic manner. Parts of it are corny, and a bit is inconsistent with other parts, but overall, it is my personal opinion that the film is a masterpiece.
Paul Memoli
Not bad. The Incredibles before the Incredibles, but not nearly as funny, touching, or musically competent.
Robert Iwataki
½
A very interesting movie, it's a superhero musical! Wow. It's actually very funny, maybe even a bit unintentionally at times. Sometimes this movie gets either too weird, or boring, but in the end its entertaining and if you like weird cheesy movies, you'll enjoy this movie. Is it a cult classic? I'm not sure, but it could be a cult movie some day.
The Return of Captain Invincible (Legend in Leotards) Quotes
There are no approved quotes yet for this movie.
Discussion Forum
Discuss The Return of Captain Invincible (Legend in Leotards) on our Movie forum!