Im Stahlnetz des Dr. Mabuse (The Return of Dr. Mabuse)
(1961)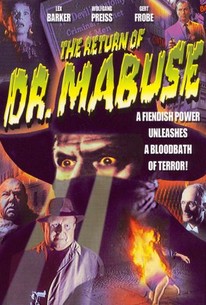 AUDIENCE SCORE
Critic Consensus: No consensus yet.
Im Stahlnetz des Dr. Mabuse (The Return of Dr. Mabuse) Photos
Movie Info
Part of a series of movies, this is another tale of the wicked Dr. Mabuse whose plans to dominate the world this time involve sending his drones to attack a nuclear power plant. Barker, the FBI man, and Frobe, the inspector, are teamed up to keep him from succeeding.
Rating:
NR
Genre:
, , ,
Directed By:
Written By:
On DVD:
Runtime:
Studio:
Ajay Film Company
Critic Reviews for Im Stahlnetz des Dr. Mabuse (The Return of Dr. Mabuse)
There are no critic reviews yet for Im Stahlnetz des Dr. Mabuse (The Return of Dr. Mabuse). Keep checking Rotten Tomatoes for updates!
Audience Reviews for Im Stahlnetz des Dr. Mabuse (The Return of Dr. Mabuse)
½
What a stupid and ultra cheap movie. lame in every respect, poorly acted and directed. A waste of time.
James Higgins
The Return of Doctor Mabuse Starring: Gert Frobe, Daliah Lavi, and Lex Barker Director: Harald Reinl Chief Inspector Lohmann (Frobe) finds his vacation plans interrupted when he is called in to investigate a bizarre murder. When he himself is targeted for death, he finds the case getting stranger and stranger, with clues pointing to a conspiracy that reaches from the quiet halls of a local church, to a nearby prison, to mobsters from faraway Chicago… and perhaps even to the involvement of the megalomaniacal criminal mastermind Dr. Mabuse. "The Return of Dr. Mabuse" is a light-weight crime thriller with Saturday matinee cliffhanger and James Bondian overtones, including a villain with a plot to conquer the world through the application of weird chemicals, science, and brainwashing. It's an entertaining film, if a bit predictable, and one that is probably enjoyed more by kids and those "young and heart" than by jaded viewers who find kicks in picking films apart. (Although I think even jaded viewers will be entertained by the Delivery Truck of Doom, and will enjoy guessing at what character is Dr. Mabuse in disguise.) One major downside to this film is that the acting seems a bit wooden, but I'm not sure how much of this is the fault of inferior actors used for the English dubbing. Frobe is certainly a better actor than one gets the sense of here, and I recall his previous outing as Inspector Lohmann as being even better than his turn as the Bond villain, Goldfinger. (Barely related note: This film is a a direct sequel to "The 1,000 Eyes of Doctor Mabuse", which I saw years ago, in the original German language, and which I recollect as being a great thriller that saw Inspector Lohmann square off against Mabuse for the first time, in a hotel loaded with hidden surveillence, and I remember the film as being better than this sequel, both acting- and cinematography-wise. That might be because Mabuse-creator Fritz Lang directed that film, or it could be that it's one of those films I am recalling through the rose-colored glasses of youth.)
Steve Miller
Im Stahlnetz des Dr. Mabuse (The Return of Dr. Mabuse) Quotes
There are no approved quotes yet for this movie.