Return of the Living Dead 3
(1993)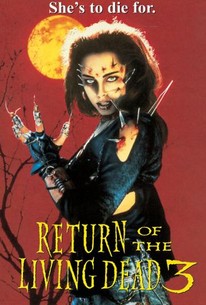 Movie Info
After his girlfriend's accidental death, a young man steals an experimental chemical from his father's laboratory in an attempt to resurrect her. His actions instead unleash a plague of brain-eating zombies from beyond the grave in this horror-comedy, the third in the Return of the Living Dead series.
People Who Like this movie also like
Critic Reviews for Return of the Living Dead 3
Audience Reviews for Return of the Living Dead 3
The third outing in this undead franchise is still just about hanging in there in terms of a decent horror film that will keep you hooked. This film unfortunately has taken the plunge into the deep dark realms of the straight to DVD which does give you a bad feeling. But fear not as despite the mawkish plot, bad acting and obvious reused sets the second half of the film gets back on track with plenty of zombie action. The plot is the downfall really, its a bit wet and sloppy. A cringeworthy Romeo and Juliet type love story between two young teens and yet more toxic stuff. The young girl gets killed in a motorbike accident (typical reckless kids huh) and is reanimated by her boyfriend using this toxic stuff in a military base. Oh yeah the boys dad runs this military base where they are using the toxic stuff to animate the dead for dubious purposes..as you do. It is important to note that this is the first film in the series that takes itself seriously and becomes more of an outright horror leaving out the comedy aspect, plus it moves away from the first two films and tries to be a stand alone feature. Whether that's the right way to go I'm not so sure as the horror comedy aspect was the best part of the original films but this still has some really nice ideas. Makeup effects by the wizard Steve Johnson saves this film from the abyss of crapola with some of the best creepy looking undead makeup in the whole franchise. His dark imagination combined with the high gross-out factor is uber cool as Johnson really gets to create anything he can think of. I admittedly did like the kinky 'Hellraiser-esque/fetish' look for the young undead female teen. Yeah call me a pervert but there's clearly a nice BDSM vibe going on there which is sick yet alluring at the same time. Think of 'Evil Dead: Army of Darkness' but even more twisted and gruesome and you will get an idea of what the crazy undead hordes look like. In short this film isn't great up until the last 30min or so, then everything breaks loose and kicks ass nicely.
Phil Hubbs
Super Reviewer
A small-scale zombie movie with good gore and makeup effects. There weren't the hoards of zombies, which was disappointing. I liked some of the ideas in this forgettable movie.Tied to the first two movies, the barrels of green gas are being used to bring the dead back to life at a military research facility. Rather than escaping, it is used to revive a hot lady after she is wounded in a motorcycle accident. Isolated gorey scenes follow, with a liquor store robbery, a much-fest in some sewer tunnels, and a final battle at the lab where twisted zombie experiments were being done. Good ending, I'd say. Too bad a part 4 was never made.
Lafe Fredbjornson
Super Reviewer
½
After the somewhat lacking and disappointing second film, Return Of The Living Dead 3 is a terrific return to form. Some people have compared this film with Re-Animator. ROTLD3 offers insane ammounts of gore and in the end, it pays off as Yuzna directs every scene with precision and thats what makes this film soar, Yuzna doesn't rush the film he slowly paces everything and slowly the film unfolds and succeeds in deliver something great. Return Of The Living Dead is a fine return indeed.
Return of the Living Dead 3 Quotes
There are no approved quotes yet for this movie.